Reliance Jio has increased the price of its Rs 222 addon tariff plan that offered 1-year Disney+ Hotstar subscription to users. The company has hiked the price of this plan to Rs 255 which is Rs 33 more than the original price. Jio's exclusive limited period upgrade offer provides an annual subscription of Disney+ Hotstar VIP over the existing plan and was introduced in June, earlier this year.
Jio has been offering an annual Disney+ Hotstar VIP subscription to its users with a range of new tariff plans and addon packs. One such addon pack priced at Rs 222 was launched for users and the company has now increased its price to Rs 255. The benefits, however, remain the same.
Jio Rs 255 plan details
Jio's Rs 255 addon voucher offers 15GB data along with 1-year subscription of Disney+ Hotstar VIP. Do note that the users will need to have subscribed to an existing base plan. After recharging with the addon pack, users will need to download the Disney+ Hotstar app and log in using their Jio number.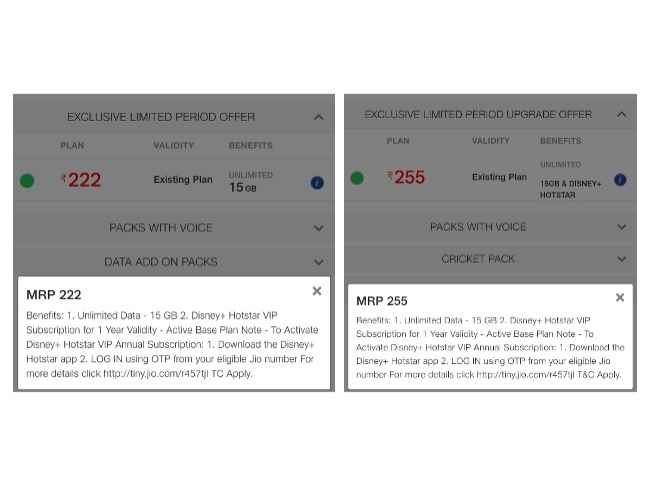 The Rs 255 plan is available for all users who have subscribed to a base plan without the Disney+ Hotstar membership. Reliance currently offers many tariff plans that come with Disney+ Hotstar VIP subscription. Some of these popular plans include the company's new Cricket packs and data add-on packs.
Jio Cricket Pack starts at Rs 401 for the monthly data plan but Reliance also offers a two-month plan at Rs 499, a quarterly plan at Rs 777 and an annual plan at Rs 2,599. All the cricket pack plans come with a 1-year subscription of Disney+ Hotstar. Some of the add-on plans include Rs 1,004 voucher that has a 120-day validity, Rs 1,206 voucher with 180 days validity and Rs 1,208 voucher with 240 days validity.
Disney+ Hotstar was launched in India on April 3 and the streaming service is available in two tiers. The VIP plan costs Rs 399 per annum, while the Premium plan is priced at Rs 1,499 a year.