Make 2021 your best year with IBM Developer
Make 2021 the year where you truly shine, grow, build & Code. Get support and motivation from the IBM Developer community. #IBMDeveloper #CodePatterns
Click here to know more
Advertisements
Reliance Industries will be holding its Annual General Meeting (AGM) at 11AM at at the Birla Matushri Sabhagar in Mumbai today. The company is expected to make some key announcements regarding its telecom arm Jio and may also unveil its much awaited low-cost VoLTE feature phones. Although, it is unlikely we will see more than the announcement of the phone since we are told there are no demo zones at the AGM. RIL may completely skip the launch of the subsidised feature phone since it was only a few days back that we heard manufacturer Intex saying that they will launch the said phone sometime "in this quarter."
Those who are interested in watching the event live can do so by tuning into the company's livestream on YouTube on the Flame of Truth or the Jio Digital Life channel.
The livestream of the Jio announcements, where Chairman Mukesh Ambani may also announce the commercial roll-out of the new Fiber-To-The-Home broadband network, can also be seem on Jio's Facebook Page, alongside the RIL Facebook page. This time around the RIL AGM will also be broadcasted live in 360-degree VR. Those who own a Samsung Gear VR headset and a compatible smartphone will be able to watch RIL's 40th AGM in the virtual reality format.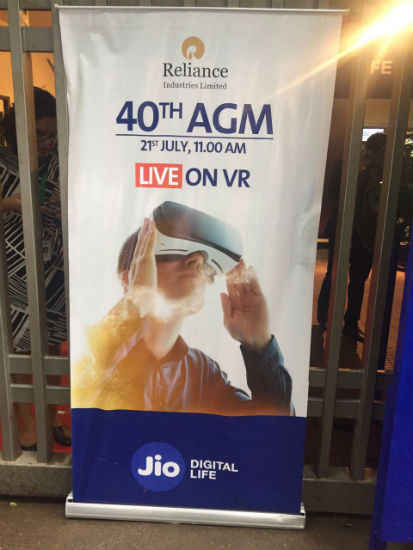 Apart from these channels, Jio announcements can also be viewed live on Twitter at these channels - @FlameOfTruth, @RelianceJio.
As mentioned before, Reliance is expected to share some big announcements around Jio and Lyf-branded 4G handsets today. Click here to know what to expect from the Jio announcements today.