Walking around at the Indian Mobile Congress 2018, one can't help but feel optimistic about the future of connectivity. India is evolving rapidly with a growing digital footprint that's spanning the length and breadth of the subcontinent. Key industry partners like Huawei, Nokia, Qualcomm, Samsung and a lot more are ready to bring in their technology breakthroughs to support the ongoing digital revolution. Reliance Jio already paved the way for high-speed internet and crystal-clear voice calls with its LTE networks, and now, it's time for 5G.
The next generation of wireless communications technology has been much talked about. When it arrives, it will bring high speed, instantaneous connectivity with ultra-low latency along with high capacity and massive coverage. That's the promise the 5G future holds, but do we really need such high speeds when the country seems to be doing just fine with 4G speeds? I mean, I can see people merrily streaming videos on the way to their work, speaking endlessly on their phones and speaking to smart speakers. Why 5G, then? That's just what the delegates and exhibitors at the Indian Mobile Congress are trying to address.
The four halls of the venue off New Delhi's Aerocity is packed with service providers, OEMs, infrastructure organisations, policymakers, etc. They are all deliberating on how the transformative technology of 5G should be put in use. Most of the booths here at IMC 2018, as a result are showcasing the various scenarios and use-cases and scenarios where 5G will play a key role.
For instance, Samsung's booth has an interesting showcase of an agricultural drone. The drone has a UHD 4K camera attached to it and provided a farmer is rich enough, he can fly the drone to inspect the crop health on a macro level and even spray fertilisers without having to go around the entire field manually. The drone works on 5G to leverage the lower latency, making the controls almost seamless for the farmer. It also leverages 5G's beam forming ability to stay connected in real time while in air. There are also temperature and soil sensors that work as narrow-band IoT (NB-IoT) devices. Samsung also has demos of a giant blimp that stay stationary up in the air and can do a lot of things. One of the key use-cases of the blimp is for surveillance. It has multiple cameras attached to it that run facial recognition algorithms to detect wrongdoings in a public place. It can also be used to beam connectivity down in crowded places and also double up as a streaming device for a sporting event in a stadium. All this powered by the high-speed connectivity of 5G.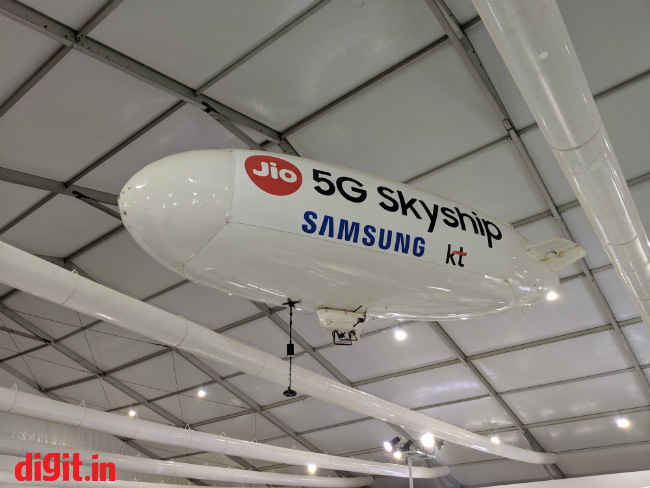 Moving ahead, you find Huawei's booth where the company showcased some really cool use-cases of 5G. Primary among them is an augmented-reality based holographic communication. Thanks to the low-latencies of less than 1ms 5G promises to bring forth, communicating with a life-sized hologram could finally be a reality. Straight out a sci-fi novel, into the hands of the people. Huawei is already collaborating with operators like Airtel to lay down the infrastructure for 5G. At its booth, it has demos of assistive learning, gaming, broadcasting live events, etc. All these requires end-to-end network support with low latency and high volumes of data transfer at super high speeds.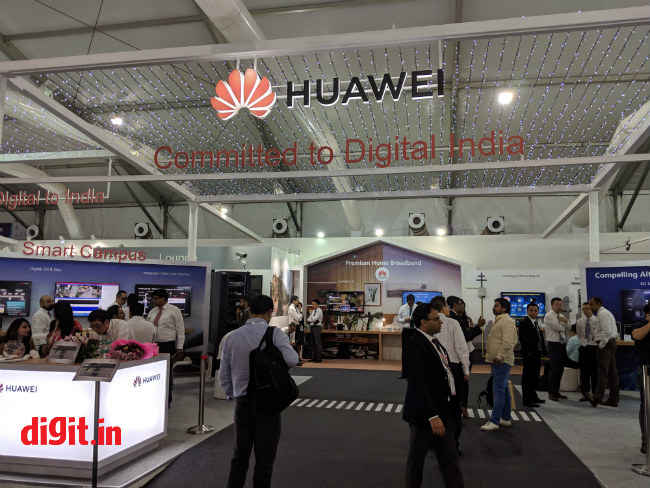 Intel's booth located right across the isle has a more focused approach to 5G. The company has solutions for almost every step of 5Gfying the country, right down from the cloud, to the core network, the access network, the wireless technology itself as well as the smart devices that will eventually leverage 5G. The company also has reference designs for 5G infrastructure including the 5G NR (new radio) and an unique implementation of using high-tension power lines to deliver 5G connectivity. Furthermore, Intel has solutions to make 5G an alternative to fiber optics. In places where fiber can't reach, 5G radios can be used to achieve similar speeds. The most interesting demo in Intel's booth is something that the company claims is already in use. It's a smart classroom, in a school in Bengaluru where a camera studies the actions of every student in the classroom to know if they are paying attention, if they are sitting, standing, raising their hand, etc. The cameras run facial recognition algos to detect the actions and transmit to either the teacher or even the parents. According to Intel, it helps make the job of a teacher easier. Honestly though, putting an end to cheating in exams is the only 'real' use of the application I could think of.
Nokia has been at the forefront of India's ongoing LTE revolution. The company, along with Ericsson and Huawei are the principal proponents of the network infrastructure for high-speed internet. At its booth in IMC 2018, Nokia is showcasing a 5G-ready network with live speeds of over 5 Gbps and around 1.28ms latency. Using the network, Nokia is showcasing live use cases of VR gaming, an industrial robot for balancing a ball, as well as a concept of a smart ambulance and a smart rural health camp. The latter scenario is tailor-made for India as most of the rural hospitals remain understaffed. With the use of high-definition cameras and super-fast connectivity, Nokia believes it can stream footage from the camp to a doctor sitting in a city hospital who can then take stock of the vital stats and other information and provide remote treatment. The ambulance is also doing something similar. To make use of the critical golden hour at the time of an accident, the ambulance will stream information to a doctor at the hospital who can then start the treament immediately upon the patient's arrival.
Qualcomm's use-cases are the most practical and somewhat more realistic. At a roundtable in its booth, Qualcomm showed its 5G reference design for smartphones. The design supports both 4G and 5G (both sub-6 and mmWave bands) to make them versatile enough to work in any environment. Then it has the small cells that are basically miniaturised versions of large base stations that can be installed both indoors and outdoors to increase capacity and coverage. The US-based chipset company has designed chips for mesh-network routers as well (Nest, Netgear Orby) where Rajen Vagadia, Qualcomm's Country Head for India and SAARC told Digit it has taken learnings from cellular networks to make home Wi-Fi networks smoother and seamless.
Airtel and Vodafone too have their own visions of a 5G-ready future. Airtel has a 5G-ready home powered by its 1Gbps V-fibre where a host of IoT devices are installed to demonstrate how a smart home will look like and function. It's something that the company also demonstrated at MWC 2018 in Barcelona earlier this year. Vodafone too has similar solutions but according to a statement by Vodafone-Idea, the focus right now is consolidating the networks is top priority after the merger both the companies recently underwent.
Finally, there's the elephant in the room — Reliance Jio. It's the reason for the surge in the industry's interest in 5G. The company is the only one to have a network infrastructure that is already 5G ready and in its booth at IMC 2018, Jio is showcasing a diverse range of use-cases. There's applications for just about every sector from the smart home where Jio-fiber powered smart TVs allow TV-to-TV calling, smart hospitals, classrooms, police stations and what not. The most intriguing is the deployment of facial recognition tech that Jio is pioneering in collaboration with Cisco and Radisys. It is poised to go live in four of the smart cities that Jio has bidded for to develop and will use multiple cameras to keep an eye on people in public places. That's a step further than what Samsung has demonstrated in the form of the blimp and can be used as an all-round surveillance tech. Combined with databases of people's faces and names (read: Aadhaar), the cameras can identify the person it sees and even warn authorities of any wrongdoing.
Based on the demos and showcases by the telecom industry at the Indian Mobile Congress, one thing is pretty clear — the 5G future is going to be exciting. Machines will talk to other machines, automated vehicles, smart everything (homes, hospitals, police stations and what not), creepy surveillance tech and of course, super-high speeds. What's not clear is when these technology will actually come into play and become mainstream. Deliberations are on to start field testing of 5G by the first half of 2019 and industry partners are hopeful that at least the smartphones and laptops will be 5G-ready by 2020. In India though, telecom companies are in a bit of a fix. Apart from Jio, nobody else is really making any money as data costs have come crashing down for the consumer ever since Ambani opened the floodgates to 4G. There is a spectrum auction early next year, but analysts and observers are skeptical whether it will have much impact since most telecom companies have crippling debt. Nevertheless, IMC 2018 is proving to be all about preparing India for the 5G future with the hope of generating enough demand so that the companies have enough incentive to build, develop and deploy the next generation wireless technology soon enough in India.