With the competition heating up in the telecom sector, Airtel has revamped its postpaid offerings. The company reportedly slipped from being the second largest telecom operator to the third spot as Jio took over. Airtel is now revamping its postpaid offerings to make its services more attractive to users. As per its website, Airtel now offers only four postpaid plans, which start at Rs 499 and goes up to Rs 1,599. All of the four plans offer unlimited calling with SMS and some amount of data with rollover. However, the top-most plan that is priced at Rs 1,599 comes with unlimited data, calls and SMS messages. Here's what all the plans offer:
Rs 499 postpaid plan
With the Rs 499 postpaid plan, a user will be credited with 75GB data for a month, who is eligible for data rollover. There's also unlimited calling, 100 free daily SMSes and free three months of Netflix subscription. Additionally, a user will get to avail one year of free Amazon Prime subscription, access to Airtel TV Premium, Airtel Handset Protection, and free access to ZEE5 shows and movies.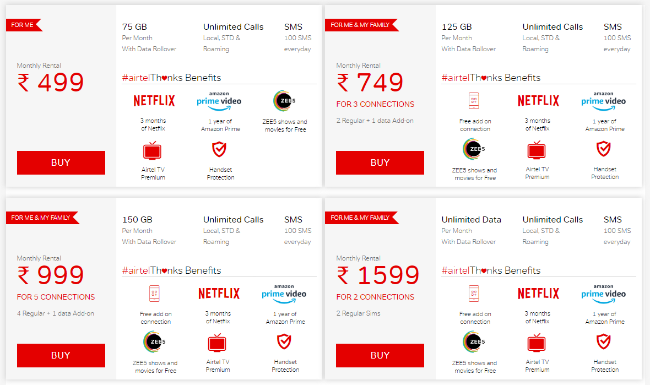 Rs 749 postpaid plan
The Rs 749 postpaid plan offers 125GB of high speed data access for a month, along with unlimited free calls and 100 daily SMS. This plan can be opted for three connections, two for regular ones and another one for data add-on. One will get the same free Netflix, Amazon Prime, Airtel TV Premium, Airtel Handset Protection, and ZEE5 access with this plan. There is also a data rollover facility that will credit any remaining data to a user's data balance next month.
Rs 999 postpaid plan
The penultimate postpaid plan by Airtel is priced at Rs 999 and comes with 150 GB data per month, along with data rollover facility. This plan is eligible for a total of five connections, which include four regular and one data add-on connection. There's 100 SMS per day, along with unlimited calls and all the additional benefits mentioned in the previous plans.
Rs 1,599 postpaid plan
The highest priced Rs 1,599 postpaid plan by Airtel offers a great deal with unlimited free data and calls for a month. One also gets 100 free SMS per day. This plan is eligible for two regular connections and comes with all the aforementioned benefits like free Netflix and Amazon Prime subscription, Airtel TV Premium, Handset Protection, and ZEE5 access.