Highlights:
The Beyond EPICA project aims to drill 2.75 kilometres into the earth in Antarctica.
Scientists from Europe expect to extract an ancient ice core.
They believe it will help us learn more about the planet's ancient climate.
The average borewell in India is about 600 feet deep, with the deepest one going up to about 1,000 feet. But that's nothing compared to what a team of scientists has planned for next year in Antarctica. According to a recent article by Nature, the Beyond EPICA project aims to drill 2.75 kilometres into the earth in search of the world's oldest ice core. The core is expected to contain ice that's at least 1.5 million years old, which is key to finding out information about the planet's ancient climate.
The team consists of a dozen groups of scientists from ten European countries. Some of them have already spent the last two years in Antarctica getting the lay of the land before the scheduled drill in June 2020. They plan to set up camp in an area in East Antarctica called Little Dome C, which is 3.2 kilometres above main sea level. Dome C is one of the coldest places on the planet. Temperatures rarely rise above -25 degrees Celsius even in summer. In winter, the mercury hits -80 degrees Celsius.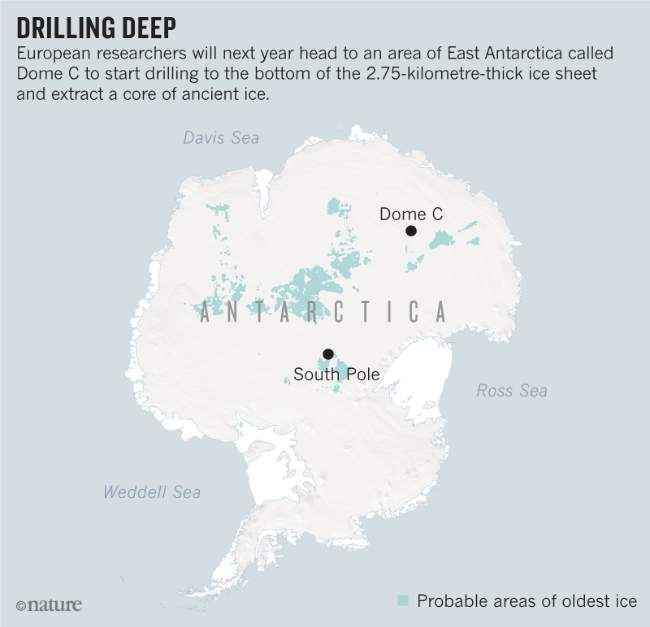 "This iconic project will help us better understand climate change in the past and to come," commented Carlo Barbante, a climate researcher at the Ca' Foscari University of Venice in Italy and at the National Research Council of Italy. "We're very confident that the bottommost 300 metres have the missing climate information that we want to find." The French-Italian Concordia station, which is about 40 kilometres northeast of the planned drilling site, will reportedly provide logistical and medical support throughout the five-year project.
By drilling to the bottom of an ice sheet that is 2.75 kilometres thick, the European scientists hope to extract a core containing ancient ice. This ice has been left undisturbed and untouched for roughly 1.5 million years, making it the oldest thing to be extracted from the planet's interior surface. The Beyond EPICA project is expected to be funded with about $12.5 million in grants by the European Commission and start in June next year.
Inline image courtesy: Nature
Related Read: NASA cancels first ever all-female spacewalk, cites spacesuit unavailability as reason