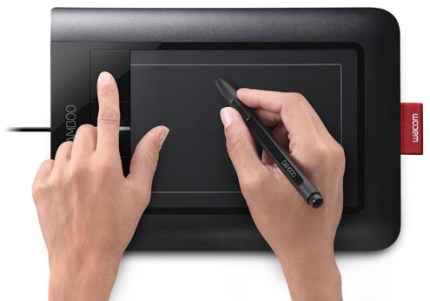 Wacom, the leading manufacturer of graphic tablet interfaces for computers has announced availability of its new line of Wacom Bamboo tablets, which now offer multi-touch functionality.

One of the most frustrating things about new technology innovations is that to take advantage of them, you need to make a significant investment. Windows 7 brings multi-touch capability, however without a multi-touch input device the functionality is useless, till now it meant an rather large investment on a multi-touch screen, . Now with Wacom's latest Bamboo series, you can add multi-touch capability to your computer, even if it runs Windows XP, and for a much more affordable sum.

Wacom's Bamboo line of tablets is intended for the hobbyist, who can use the precision and sensitivity of the tablets for day-to-day tasks, but would shy away from the heavy investment required for Intuos or Cintiq.

Now with the launch of their new multi-touch products they plan to expand their market even further, to the average consumer. The Bamboo tablets provide two finger multi-touch support using a capacitive sensor, and support gestures similar to those of Apple products. The second generation Bamboo line now comes in four flavours, Bamboo, Bamboo Fun, Bamboo Touch, and Bamboo Pen.

The Bamboo and Bamboo Fun offer both touch and pen interfaces. They can automatically switch between pen and touch mode of operation, giving you maximum benifits of both. Bamboo Fun is a larger variant of Bamboo.

The Bamboo Touch is a touch only tablet, which is aimed at people who wish to get the multi-touch experience on their computer but don't need the pen functionality for their purposes. It is essentially the cheapest way to get basic multi-touch functionality on your computer.

The Bamboo Pen is a pen only tablet, essentially the same as the first generation Bamboo products.

The Bamboo Touch and Bamboo pen, which both provide only single touch / pen functionality, are expected to retail at Rs. 4,950 for either of them, while the Bamboo and Bamboo Fun will retail at Rs. 7,200 and Rs. 12,500 respectively.