Rapoo launches an extremely slim Bluetooth keyboard, the Rapoo E6100, compatible with most Bluetooth-enabled devices.
Rapoo, the manufacturers of wireless peripheral products, launched E6100, an ultra-thin Bluetooth keyboard with wireless connectivity of up to 10m distance. The E6100 keyboard connects with Bluetooth 3.0 technology and does not require any wire or receiver.
Apart from notebooks and desktops, the E6100 is also compatible with most current generation, bluetooth enabled gadgets wirelessly, like iPad, iPhone, and many Android devices. It is 5.6mm at its thinnest and compatible with notebook, desktop, iPad, iPhone, Notebook, Android devices.

Key Features:
● 5.6mm at thinnest, compact and space-saving design with scissor key structure and stainless steel base plate.
● Work with all generations of Windows, Mac, iPad, iPad2, iPad3, iPhone and many Android devices.
● Compact Size 288mm * 110mm (L*W).
● Works on 2 AAA Alkaline batteries.
● Fn key gives you quick access to media player, homepage etc.
● Up to 10 meters wireless range with Bluetooth 3.0 technology.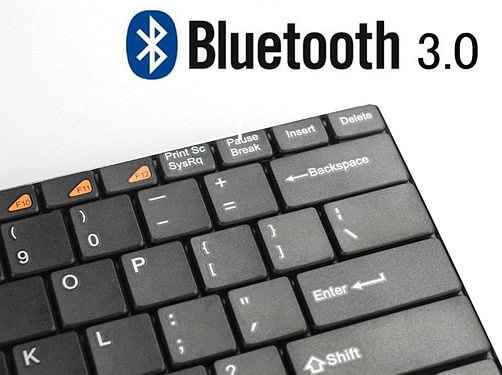 System Requirements
● Windows XP and above, compatible with Windows 8 with Bluetooth function
● Mac OS, iPad with Bluetooth function
● Android 3.0 and later with Bluetooth function
● Bluetooth capable [Human Interface Device (HID) Profile]
Mr Sunil Srivastava, India Sales & Marketing Manager at Rapoo India was quoted saying, "We have seen customers struggling with any of the latest touch screen technologies, if they have to type long documents. They usually tend to get back to their laptops and desktops. With E6100 keyboard anyone can just switch on the Bluetooth of the device and instantly get started with their work. It's a compact, slim and eye catching keyboard which customer can choose to carry it along within their bag."

Rapoo E6100 wireless keyboard has a retail price of Rs 4,349. It comes with 2 years replacement warranty and is also available ex-stock.