NVIDIA has launched the RTX 3060 in India with stocks similar to what they had with the RTX 3060 Ti
NVIDIA has launched the RTX 3060, the youngest member of the RTX 30-series Ampere graphics cards but with more memory (12 GB) that the more powerful RTX 3060 Ti (8 GB). There will be no Founders Edition cards for the RTX 3060 so all of those GPUs have been allocated to board partners. Industry sources tell us that the stock situation for the RTX 3060 is similar to that of the RTX 3060 Ti. At the same time, NVIDIA's retail partner, RPTech has unlisted the RTX 3060 Ti from their official website. As of now, we do not know what this means for the RTX 3060 Ti. Whether it will be restocked, remains to be seen.
The RTX 3060 is a mid-range graphics card that's targeted at folks who own 900-series and 10-series graphics cards and supposedly offers 30% more performance than the RTX 2060 in rasterised and ray-traced video games. Listings for the graphics card have already gone up on several online stores with no official pricing being mentioned. Folks wanting to purchase the card will have to individually reach out to the stores to get the latest prices. The previously launched RTX 3060 Ti cards have been selling for nearly twice the stated MRP in India. The international price for the RTX 3060 is USD 329 (Approx INR 28,185 with taxes).
NVIDIA RTX 3060 Specifications
Rumours had indicated a weaker RTX 3060 prior to the launch of AMD's RX 6000 series GPUs. It would have had fewer SMs and equal or lesser memory than the RTX 3060 Ti. Thankfully, we now have an RTX 3060 that has 28 Streaming Multiprocessors which give us 3584 CUDA cores. They also include 112 3rd Gen Tensor Cores, 28 2nd Gen RT cores and a 192-bit memory interface. Essentially, you have a narrower bus addressing a much larger chunk of memory. Benchmarks should peg the card at about 75-80% of what the RTX 3060 Ti is capable of at 1080p.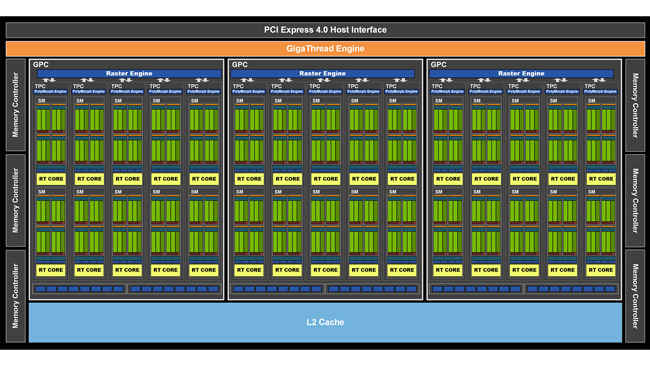 Here are the specifications of the RTX 3060 compared against the RTX 3060 Ti, RTX 2060 Super and GTX 1060 6GB GDDR5.
Model
RTX 3060 Ti
RTX 3060
RTX 2060 Super
GTX 1060
GPU
GA104-200-A1
GA106-400-A1
TU106-410-A1
GP106-400-A1

CUDA Cores

4864

3584

2176

1280

Boost Clock

1410 MHz

1320 MHz

1470 MHz

1506 MHz

Memory

8 GB

12 GB

8 GB

6 GB

Memory Type
GDDR6
GDDR6
GDDR6
GDDR5

Memory Clock

14 GHz

14 GHz

14 GHz

8 GHz

Memory Bus

256-bit

192-bit

256-bit

192-bit

Bandwidth

448 GB/s

336 GB/s

448 GB/s

192 GB/s

TGP

200 W

170 W

175 W

120 W

Process
Samsung 8NM
Samsung 8NM
TSMC 12nm
TSMC 16nm
It certainly seems like a worthwhile upgrade for folks who currently own a GTX 1060 or older graphics card whereas RTX 2060 Super owners can stay with their existing GPUs until the next major GPU launch happens.
NVIDIA RTX 3060 India availability and price
While the RTX 3060 is expected to sport a more economical price tag compared to the RTX 3060 Ti, we don't expect to see Indian retailers selling it at the stated MRP any time soon. The stated MRP is USD 329 which with taxes comes out to around INR 28,185 but it's extremely unlikely that we'll see cards selling at that price. The global chip shortage problem is expected to last for another year and will only start easing up in the latter part of this year. So don't be surprised to see exorbitantly priced graphics cards for the next couple of months. NVIDIA is certainly doing their part by trying to provide founders edition cards in India at affordable rates via their retail partners, RPTech. However, only 10-40 cards are stocked around once every month or so. Moreover, the infrastructure has been shown to be barely sufficient to handle the web traffic load when the cards do go on stock.
NVIDIA has also limited hash rates on the RTX 3060 for select crypto mining software to ensure crypto miners don't go after the same card. It stands to be seen how long it will take for the miners to bypass the driver limitation.
NVIDIA Partner unlists RTX 3060 Ti
As of today, RPTech has unlisted the RTX 3060 Ti from the website. You can still get to the RTX 3060 Ti page if you have the direct URL. It remains to be seen if the card will be restocked again.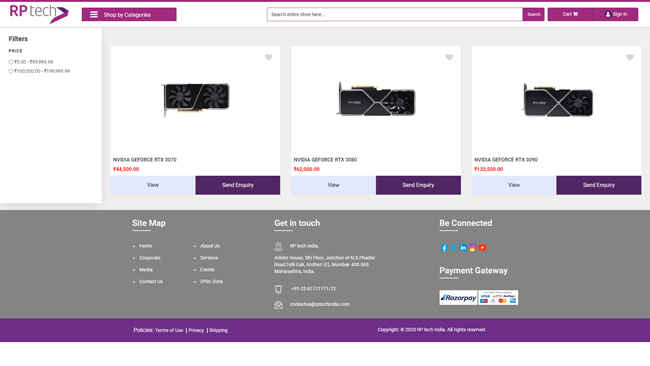 The card was recently stocked on the 15th with about 40 units available on the day of sale and saw the portal crash multiple times througout the day.