Intel 13th Gen Core processors were unveiled at Intel Innovation today with six new desktop processors. Leading from the top is the Intel Core i9-13900K which boasts of 24 Cores and 32 Threads and a boost clock speed that goes up to 5.8 GHz. The 13th Gen Intel Core processors will be supported by motherboards featuring the Intel 600 series chipsets and a new set of motherboards featuring the Intel 700 series chipsets will also be launched. The new chipsets will continue to support both DDR4 as well as the latest DDR5 memory standard.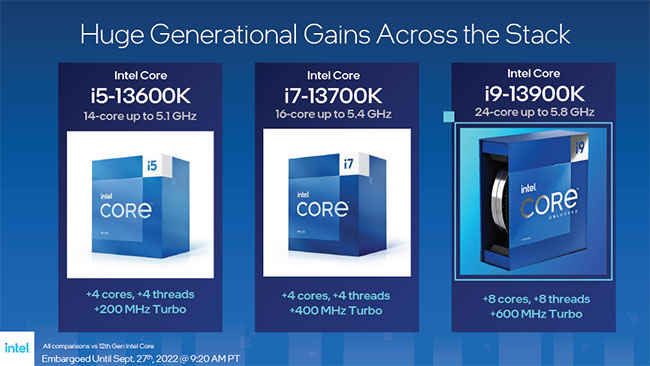 Intel Unison, a solution that's adding to the user experience of machines powered by 12th and 13th Gen Intel Core processors was also unveiled at the event. Based on technology by Screenovate, a company that was acquired by Intel in December, 2021, Intel Unison is about integrating devices and operating systems across form factors. Think of it as what Apple users experience when moving work between an iPhone and a MacOS device. Intel Unison is much better because it's not limited to just iOS. You can use it on Windows as well as iOS devices.
"We are raising the standards of PC performance once again with our latest generation of flagship 13th Gen Intel Core Processors," said Michelle Johnston Holthaus, executive vice president and general manager of the Client Computing Group at Intel. "The 13th Gen Intel Core family is the latest example of how Intel is enabling amazing experiences to happen on the PC -- at scale and across all PC product segments. Combine this with an industry leading partner ecosystem and new solutions like Intel Unison, and together we are showing the world what's truly possible with the PC experience going forward."
13th Gen Intel Core Processor Family
Like its predecessor 12th Gen Alder Lake processors, the new Intel 12th Gen processors will also feature their x86 hybrid architecture which combined Performance Cores (P-Cores) and Efficiency Cores (E-Cores) to get the best of both worlds - performance when the need arises and power efficiency when the PC needs to idle. The 13th Gen Intel Core processors reportedly will have up to 15 per cent better single-threaded performance and up to 41 per cent better multi-threaded performance.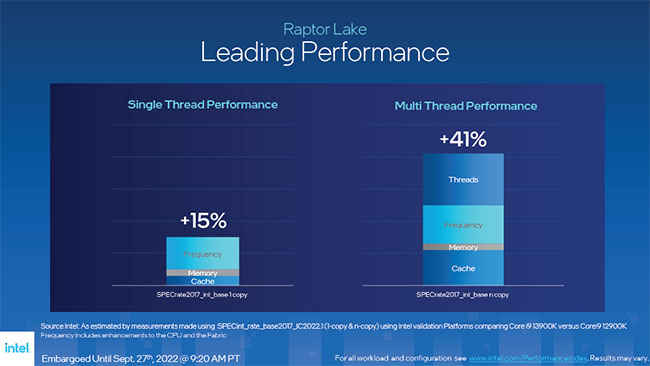 There will be six new unlocked 'K' processors in the 13th Gen Intel Core processor family and with all the other SKUs considered, there will be a total of 22 processors. They are being built on the Intel 7 process node which is now considered mature having been in high-volume production for more than a year. This has allowed Intel to add a lot more cores to the processors with the Intel Core i9-13900K now featuring 8 P-Cores and 16 E-Cores. Also, the clock speeds can now be pushed much higher with the 13900K going up to 5.8 GHz. This has resulted in up to 15 per cent better single-threaded performance. With double the E-Cores as the previous gen, there's also up to 41 per cent more multi-threaded performance, reportedly.
Key features of the Intel 13th Gen Core processors
While a more mature Intel 7 process node is helping with the power efficiency and performance bits, there are a few changes to the processor architecture as well. We've already touched upon the addition of more E-Cores to improve multi-threaded performance. Another key improvement is to the cache sizes. L2 Cache is being doubled in some of the SKUs and L3 cache is also being increased across SKUs.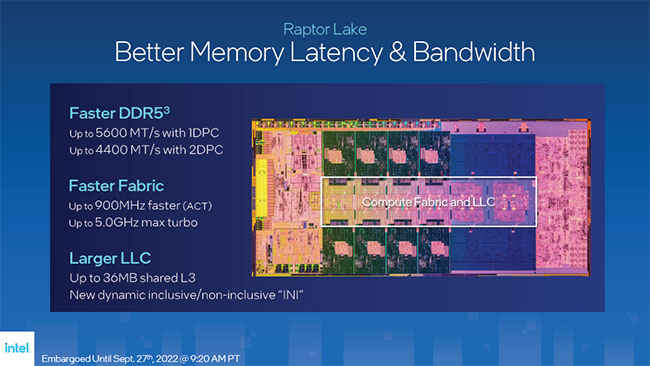 When Alder Lake processors launched last year, DDR5 memory was just introduced to the consumer market and very few memory manufacturers could boast of a wide portfolio of SKUs. That has changed over the course of the year and a lot more memory kits are now available in the market. Intel is also improving support for DDR5-5600 and DDR5-5200 kits. DDR4 memory will continue to be supported by motherboard vendors.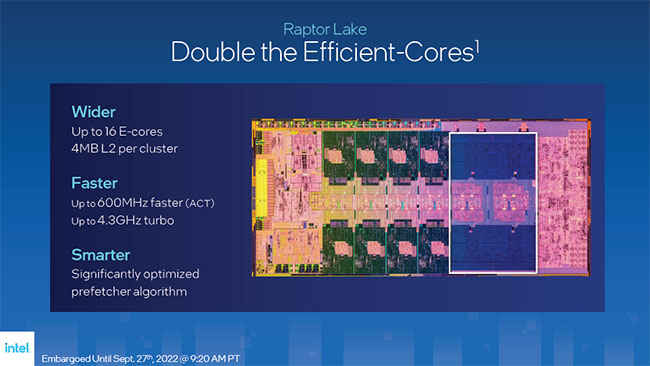 Boost technologies such as Intel Adaptive Boost Technology and Intel Thermal Velocity Boost will continue to be incorporated into 13th Gen SKUs.
Intel 13th Gen Gaming Performance
Compared to the previous gen Intel Core i9-12900K, the new Intel Core i9-13900K is expected to improve on gaming performance thanks to the higher single-threaded performance uptick. Intel shared this graph which shows a range of improvements to FPS values in video games going as high as 24 per cent in games such as League of Legends.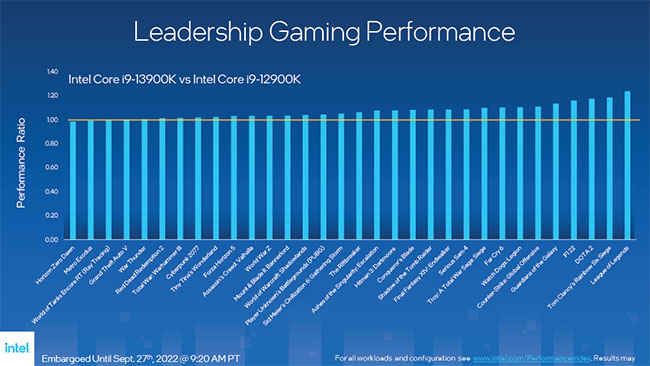 Improved Overclocking Tools
Intel's unlocked 'K' SKUs allow enthusiasts to overclock the processors to get more performance out of them. For this, Intel has had two utilities of their own - Intel Extreme Tuning Utility (XTU) and Intel Speed Optimizer. Intel Extreme Tuning Utility now has the ability to run per-core tuning with a more improved GUI. The 1-click Overclocking feature is also a lot easier for first-time users thanks to a simplified "Compact View".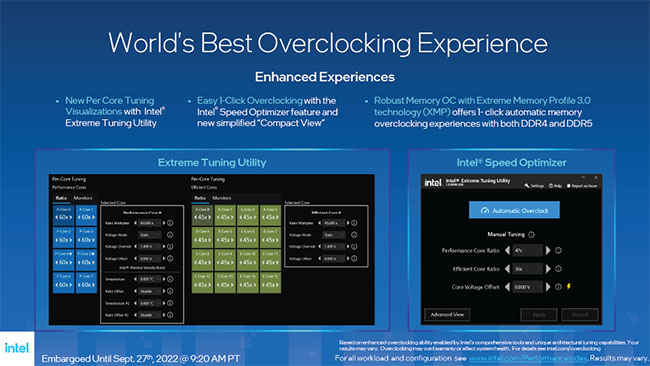 13th Gen Intel Core Processor Family Availability
The Intel 13th Gen Core processors along with the new motherboards featuring the 700 series chipsets will be launched on Oct 20, 2022.