The 13th Gen Intel Raptor Lake-S CPU specifications and lineup has leaked online and it looks rather impressive. Only a few days ago, information about the 12th Gen Intel Processors surfaced on the web which referenced a Core-i9 12900k beating an AMD Ryzen 9 5900X in multi-core performance. However, the 13th Gen Intel Raptor Lake-S CPU brings even more stuff to the table.
Intel Raptor Lake-S CPU Leak Specs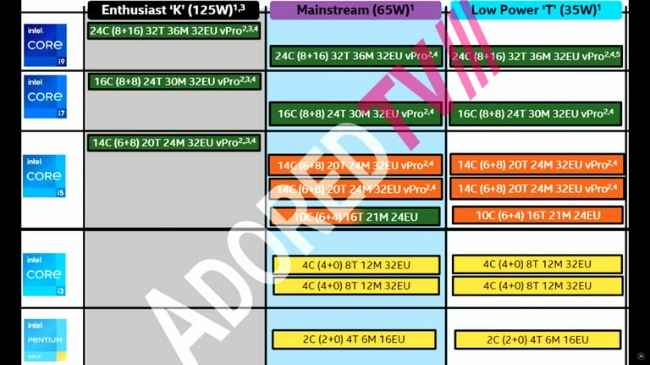 As per the leak by AdoredTV, The Intel Raptor Lake-S lineup is coming in October 2022 and will compete with the AMD Zen4 architecture. Intel's Raptor lake will share the same LGA 1700 socket as its predecessor Alder Lake. The 13th Gen Intel Raptor Lake CPUs could feature powerful Raptor Cove cores in addition to power-efficient Gracemont Cov cores. The Raptor lake CPUs will most likely have a higher IPC rating, improved frequency and better performance per watt relative to Alder Lake.
The 13th Gen Intel CPUs will feature powerful Raptor Cove cores for higher performance and a higher number of Gracemont Cove cores for delivering higher efficiency. As a result, the top-spec 13th Gen Intel Core i9 "K" series CPU will have 24 cores and 32 Threads, which is essentially double the cores compared to 12th Gen.
As per the report, the 13th Gen Core i7 will have 16 cores/24 threads. The "K" variant of the Core i5 will have 14cores/20threads (6 Raptor cores and 8 Gracemont cores), however, the S version will feature an SKU with 14 Core/24 thread (6 Raptor cores and 8 Gracemont cores) along with a 10 core/16 threads SKU (6 Raptor cores and 4 Gracemont cores).
The 13th Gen Core i3 will come with 4 cores and 4 threads (4 Raptor cores). Lastly, the ultra-low-power Pentium CPUs feature a 4 core and 4 thread setup (2 Raptor cores).
The "K" series CPU will have 125W of maximum TDP. The mainstream SKUs will consume 65W and the power-efficient T-series CPUs will only require 35W of power.
Every "Core" Intel processor will launch with Iris Xe graphics featuring 32 execution units for higher-end and 24 or 14 units for low powered CPUs.
In terms of clock speed, the 13th Gen Intel Raptor Lake-S CPU will feature a 200MHz additional clock speed, pushing it to a record 5.6GHz. Additionally, the Intel Raptor Lake-S CPUs will also have support for 5600MHz RAM speed and up to 6500MHz for LPDDR5X RAM.
The higher number of efficiency cores in Raptor lake will make mobile CPUs more effective in terms of battery life. It'll be a direct blow to Apple's M1 chip which currently offers one of the highest battery backups in Macbook Air and Pro if the leaks are true.
Keep in mind that Intel Alder lake and Raptor lake will use 10nm nodes. Meteor Lake is poised to be the first 7nm process from Intel and it is now known as Intel 5. If these leaks are true then the future looks bright for Intel.
For more technology news, product reviews, sci-tech features and updates, keep reading Digit.in or head to our Google News page.