Intel launched their latest lineup of processors for the Desktops, Mobile and Servers utilising the Kabylake microarchitecture. Announced back in August 2016, the Kabylake microarchitecture is a follow up to the Skylake microarchitecture which was released about a year back in August 2015. Departing from Intel's "Tick-Tock" cadence cycle, Kabylake forms a new step which Intel calls "Optimize" which is part of their new "process-architecture-optimization" cycle. So from the get go, you shouldn't expect tremendous gains from Kabylake, it is Intel's way of ironing out the design before the entire 14nm microarchitecture is shrunk down to 10nm manufacturing process. And this "process" step will arise as Intel Cannonlake later this year.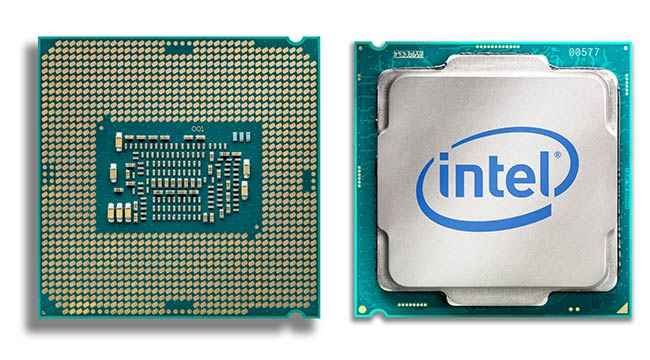 There have been rumours that Intel might opt for a second optimization step in the form of Coffee Lake before moving onto Cannonlake, Coffee Lake flagship SKU is also expected to be 6-core. This second level of "optimization" is supposedly due to issues with the 10nm manufacturing process and to compete with AMD's Ryzen. Kabylake processors bring with it, a few key changes to the platform, including the new 200 series Union Point chipset among others. Yes, that means there shall be new motherboards.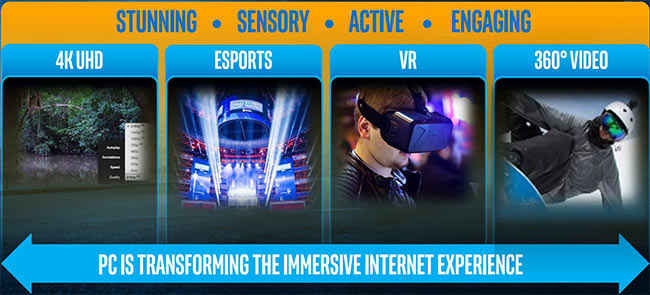 Kabylake is how Intel hopes to materialise what it calls the "Immersive Internet". The improved IGP on Kabylake goes a long way towards making this a possibility. And that's by making 4K content consumption easier, helping bring popular Esports titles to each and every one along with VR and 360 degree video playback.
What's new with Kabylake and Union Point?
While Kabylake is primarily an optimised version of Skylake, there are some noteworthy improvements to the entire platform overall.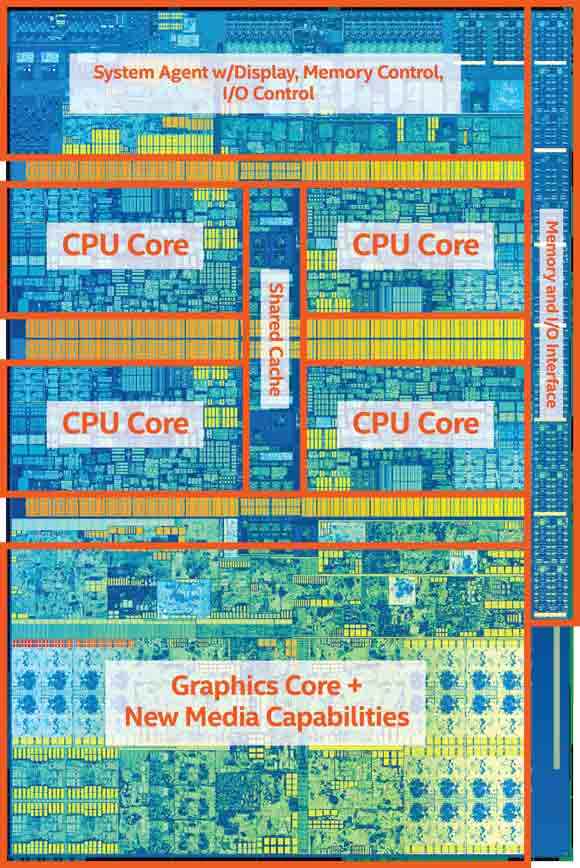 1. 200-series Union Point
While new motherboards with every microarchitecture release have been a point of contention for quite some time, the new 200-series Union Point chipset is compatible with Skylake CPUs and Kabylake CPUs are compatible with the older Sunrise Point 100-series chipsets.
2. Improved clock speeds
Greater clock speeds are a given. Kabylake's flagship Core i7-7700K is clocked at 4.2 GHz with Turbo Boost propelling it to 4.5 GHz. We see similar gains across the entire SKU table.
3. Full hardware VP9/HEVC decoding
One of the key improvements made is with the IGP. Kabylake will feature Intel HD Graphics 630 which has a peak clock speed of 1.15 GHz. HD Graphics 630 supports full hardware based VP9/HEVC decoding, boasting of handling 4K 60FPS 10-bit with ease.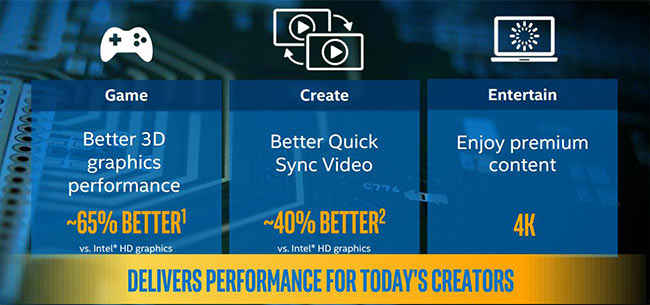 4. Intel Optane Technology support
Union Point chipsets will have support for Intel Optane Technology. Optane is an upcoming memory technology set to hit the markets towards the end of 2017. Another name for the same is 3D Xpoint "3D-cross-point". It boasts of 10x lower latency, 3-4x improvement in read and write speeds compared to NAND and a packing density that's four times greater than DRAM, 3D Xpoint is probably going to be ridiculously expensive when it does come out.
5. More PCIe lanes
While the CPU will still provide for 16 PCI Express 3.0 lanes, the PCH will now provide 24 PCI Express 3.0 lanes which is an improvement over the 20 lanes that 100-series Sunrise Point chipsets used to provide.
6. Interestingly, Kabylake will be the first microarchitecture since the Core I series debuted to have an unlocked Core i3 processor. The Core i3-7350K is a 2C/4T SKU with a base clock of 4.2 GHz, there's no boost on Core i3.
7. Overclocking on Kabylake has been made a lot more simpler, especially with the voltage levels. Even the instability that arose due to the AVX instruction set being called has been worked on to allow for a more stable higher OC frequency.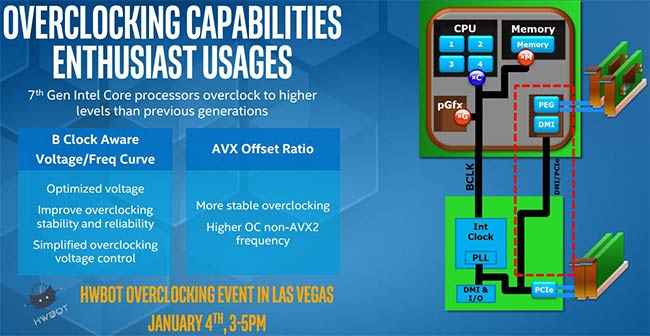 And then there's this
What's not so great about Kabylake is that Intel has confirmed that they will not be providing support for Windows 7 or 8.x. The CPUs will function on these operating systems, it's just that there will be no drivers produced by Intel. The folks using Linux have nothing to be bothered about.
Intel Kabylake SKUs
Since Intel is releasing Kabylake across all segments, we're looking at a lot of SKUs today. 42 to be precise. And these will be designed for different TDP. So there are going to be 4.5W Intel Core vPro processors (Y-series) for 2 in 1 detachables as well as 15W Intel Core vPro, 15W and 28W Intel Core processors (U-series). For the more power hungry use cases, there are going to be 45W Intel Core vPro processors (H-series) for large screen clamshells and premium notebooks, 45W Intel Core mobile processor (H-series) and unlocked SKUs for enthusiast and VR capable notebook.

The enterprise segment will see 45W Intel Xeon processors for mobile workstations. And then there will be 65W Intel Core and Intel Core vPro processors (S-series) for mainstream towers, certain 35W SKUs will be for All-in-Ones and minis.
And lastly, for the enthusiasts, there are the unlocked 91W K SKUs.
Intel Union Point Chipset features
The desktop chipsets will have five SKUs from the corporate focused Q270 to the enthusiast Z270 chipset. As revealed earlier, the Z270 and the Q270 will have up to 24 PCI Express 3.0 lanes. The Q250 which is the lower end business focused PCH will have just 14 PCI Express 3.0 lanes which the B250 and the H270 will have 12 and 20 lanes, respectively. Overclocking will remain to be exclusive to Z270 chipsets.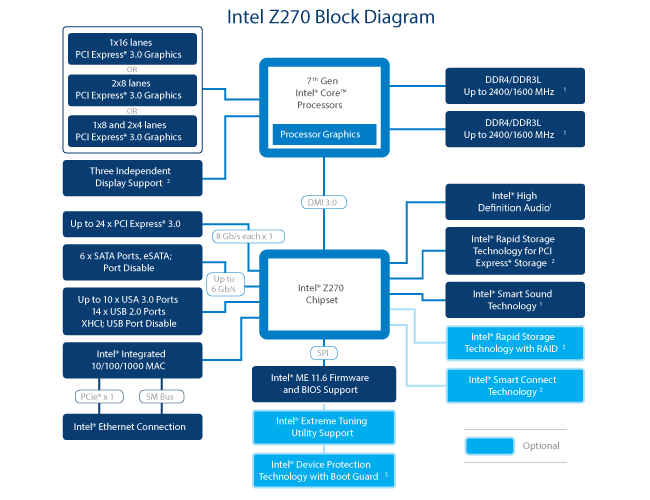 As for lane configurations between the chipsets, the Q270 and the Z270 are the most diverse with either 1x16 or 2x8 or 1x8+2x4 configuration. The remaining chipsets only allow 1x16 PCIe configuration. However, motherboard manufacturers have always been known to be creative and we've seen some outlandish configurations in the past.