Intel Core i7 Extreme Edition processors are the company's most powerful desktop processor line-up and Intel just added the Intel Core i7 6950X which uses the Broadwell-E architecture. The Core i7-6950X processor is a 10-core processor and can process 20 threads thanks to Hyperthreading. Also, it has 40 PCI Express 3.0 lanes along with its new Intel Turbo Boost Max Technology 3.0. Based on Intel's 14-nanometer Tri-gate transistors, the processor is fully compatible with the existing X99 chipsets, thus, enabling hardware companies to manufacture Core i7 systems with the existing Intel X99 chipset.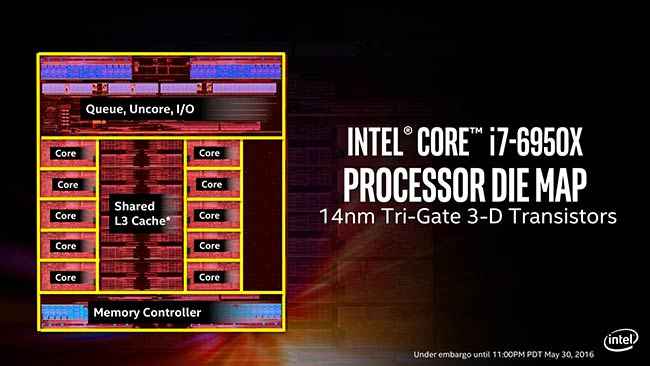 The Intel Core i7 6950X is priced at $1723, higher from Intel's usual pricing of $999 for its high-end processors. The processor will also be available in two more variants: an 8-core variant (Intel Core i7-6900K) that will cost you $1,089 and the 6-core variants(Intel Core i7-6850K and Intel Core i7-6800K) are priced at $617 and $434 respectively.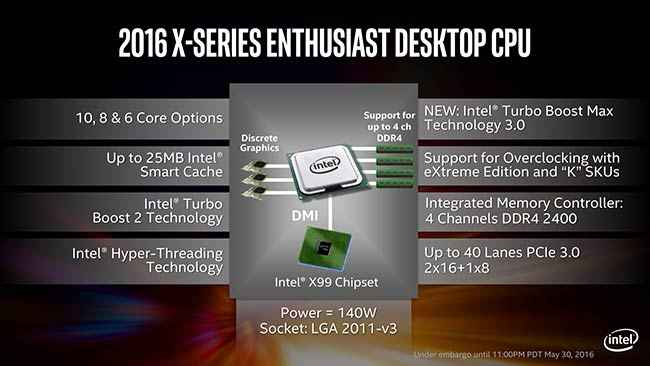 The 6950X comes with 25MB of smart cache and also supports quad-channel DDR4 memory going all the way up to 2400 MHz, motherboard manufacturers can come out with support for higher clock speeds. This Broadwell-E chip tops out at 3.8 GHz and comes unlocked for the overclockers to unlock its maximum potential. Intel claims the chip has up to 35 percent better 3D rendering performance for 4K videos than the previous generation chip(CineBench 15: 6950X vs 5960X).
Intel's Extreme Edition family has always been aimed at multitasking as well as high-end gaming. Intel has decided to coin a new term to describe its prowess – megatasking. The processor is on display at Computex as a part of the annual HWBOT Overclock World Tour. The processor can achieve a turbo boost speed of 3.8 GHz but reports have also suggested that the overclockers have been able to push it to 5.7 GHz as of writing this report.
Processor Name
Intel® Core™
i7-6950X
Processor
Unlocked
Intel® Core™
i7-6900K
Processor
Unlocked
Intel® Core™
i7-6850K
Processor
Unlocked
Intel® Core™
i7-6800K
Processor
Unlocked
Cores/ Threads
10/20
8/16
6/12
6/12
Base Clock Speed
(GHz)
3.0
3.2
3.6
3.4
Intel® Turbo Boost
Max Technology 3.0
Enabled
Enabled
Enabled
Enabled
Intel® Turbo Boost
Technology 2.0
Frequency (GHz)
Up to 3.5
Up to 3.7
Up to 3.8
Up to 3.6
Cache
25MB
20MB
15MB
15MB
Memory Support
4 channels
DDR4-2400
4 channels
DDR4-2400
4 channels
DDR4-2400
4 channels
DDR4-2400
PCIe Lanes off of CPU
40
40
40
28
TDP
140W
140W
140W
140W
Socket (LGA)
2011-v3
2011-v3
2011-v3
2011-v3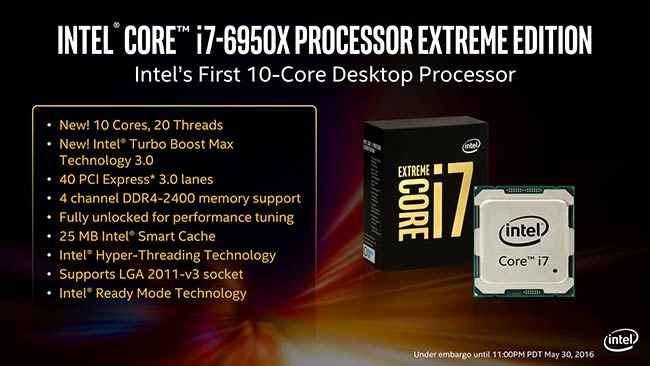 Along with the Core i7-6950X, Intel also introduced the Intel Xeon E3-1500 v5 processor family that combines the performance of Xeon processors with the graphics power of Intel Iris Pro graphics P580. Intel also demonstrated 7th Gen Intel Core processors, codenamed as Kaby Lake, for the first time and highlighted a few advancements in performance, battery and media capabilities. With production beginning around the end of quarter, 7th Gen processors will also be seen entering the market by the end of the year.