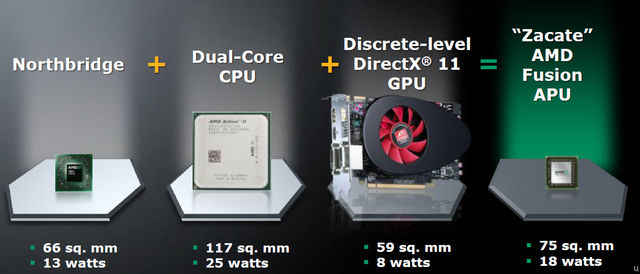 The holy grail of semiconductors has finally been found, and both Intel and AMD have drunk deep. Just yesterday Intel introduced its second generation Core processors, aka Sandy Bridge, which combines a CPU, GPU, and memory controller all on a single die, and today, AMD has officially released its Fusion Accelerated Processing Units (APU) platform – a DX11 capable CPU/GPU hybrid that also features a parallel processing engine, Universal Video Decoder 3 (UVD3) for HD video acceleration (1080p capable), and a high-speed bus, all on a single die.
Just like Sandy Bridge, AMD's Fusion platform is geared towards increased media performance and lower power consumption, all while allowing for ultra-thin and ultra-light form factors. For now, only the low-powered 40nm-die AMD Fusion APU family that is codenamed 'Brazos' has been released, and plenty of OEMs, from Lenovo to HP to Asus, have already offered netbooks, all-in-one desktops, and notebooks with it inside – and Sony, Toshiba, Acer, Samsung and Dell will be out with theirs soon. Currently, the platform will serve for devices between the $200 and $500 range, an extremely popular segment that is seeing some astounding demand from consumers looking for good performance for great value. Tablets and embedded devices with Zacate and Ontario APUs will follow soon, and are expected by Q1 2011.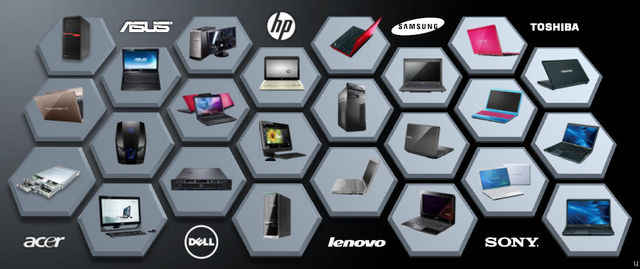 Featuring x86 Bobcat cores, the AMD Brazos Fusion APU family is divided into two different offerings: the C-Series 9W TDP Ontario APU (dual-core C-50@1GHz and single-core C-30@1.2GHz) meant for netbooks and other small form factor devices; and the E-Series 18W TDP Zacate APU (dual-core E-350@1.6 GHz and single-core E-240@1.5 GHz) meant for ultra-thin and value notebooks as well as all-in-one desktops. AMD claims the two low-powered APUs will allow devices to offer 10 hours or more of battery life. The Brazos platform also supports the latest DirectCompute and OpenCL interfaces.
[RELATED_ARTICLE]Expect the full power desktop and notebook 'Llano' A-Series Fusion APUs to ship in machines by the first half of 2011. Based on a 32nm process, the Llano APUs will be quad-core offerings with DX11 graphics, and apparently provide up to 500 gigaflops of graphical power, which is apparently 33 times the performance of a single CPU from just two years ago, according to AMD.
Some differences between Sandy Bridge and Fusion APU must be pointed out…Sandy Bridge, while integrating quite a lot of processing onto a single die, does not offer the mindblowing power-efficiency (strictly performance per watt) of the ultra-low-powered Brazos APU, and, only offers support for DX10.1 instead of Fusion's DX11 graphics. In terms of raw compute performance though, Intel's offerings are much more powerful, while we will have to wait and see just how well AMD's UVD3 video decoding compares to Intel's newly introduced video technologies, though AMD's (and ATI's) prowess in the graphics department should make things obvious.