Top reasons why you must attend #KubeSummit 2021
Get a detailed walk through on scheduling & automating deployment & scaling of #Containerized Apps. Register for #KubeSummit 2021 today. March 19-20
Click here to know more
Advertisements
AMD has launched the Radeon RX 5300 graphics card for the entry-level segment based on the same RDNA microarchitecture that powers their RX 5000 series including the RX 5700 XT, RX 5700, RX 5600 XT, RX 5600 and RX 5500 XT. The Radeon RX 5300 is expected to be priced around INR 13000-15000 since it's supposed to compete against the NVIDIA GTX 1650 and its overclocked variants. The RX 5300 was launched silently without any fanfare and all we know comes from a product page on AMD's website. This is not the RX 5300M mobile variant that was launched in November 2019.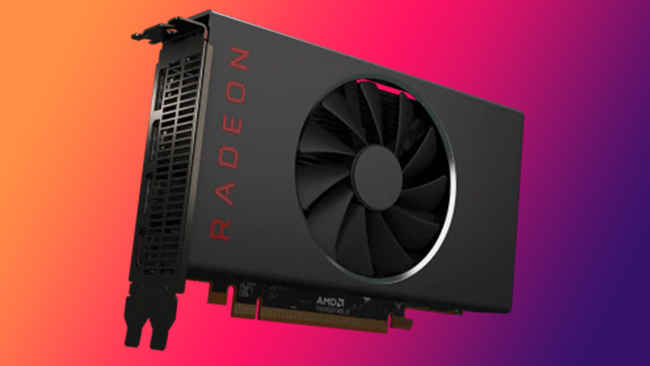 The AMD RX 5300 graphics card has the same core configuration as the Radeon RX 5500 XT but features lower clock speeds and a narrower memory bus. It also ships with just 3GB of GDDR6 VRAM which is lesser than what the competing NVIDIA GTX 1650 ships with by 1 GB. However, the NVIDIA cards use GDDR5 memory whereas AMD uses GDDR6. the memory bandwidth of the 1650 GDDR5 variant is 128 GB/s whereas the RX 5300 has a memory bandwith of 168 GB/s. NVIDIA also launched a GDDR6 variant of the GTX 1650 earlier this year which has a memory bandwidth of 192 GB/s. The faster memory on the RX 5300 will help overcome the lower capacity, however, the extent of its impact can only be determined once the benchmarks are in.
GPU
Compute Units - 22
Boost Frequency - Up to 1645 MHz
Game Frequency - Up to 1448 MHz
Peak Pixel Fill-Rate - 52.6 GP/s
Peak Texture Fill-Rate - 144.8 GT/s
Peak Half Precision Compute Performance - 9.26 TFLOPs
Peak Single Precision Compute Performance - 4.63 TFLOPs
ROPs - 32
Stream Processors - 1408
Transistor Count - 6.4 B
Requirements
Typical Board Power (Desktop) - 100 W
GPU Memory
Memory Speed (Effective) - 14 Gbps
Max Memory Size - 3 GB
Memory Type (GPU) - GDDR6
Memory Interface - 96-bit
Max. Memory Bandwidth - 168 GB/s
Supported Rendering Format
4K H264 Decode - Yes
4K H264 Encode - Yes
H265/HEVC Decode - Yes
H265/HEVC Encode - Yes
Connectivity
DisplayPort - 1.4 with DSC
HDMI™ - 4K60 Support
Features
Supported Technologies
AMD FreeSync™ Technology
DirectX® 12 Technology
The Vulkan® API
AMD Radeon RX 5300 performance
AMD has put up a comparison on their website of the Radeon RX 5300 against the NVIDIA GTX 1650 in popular AAA video games such as Battlefield 5, Monster Hunter World, Call of Duty: Modern Warfare and PUBG. All benchmarks run on the highest ingame preset at 1080p resolution shows the RX 5300 beating the GTX 1650 by a wide margin. The RX 5300 supposedly scored 86 FPS in Battlefield 5 (high), 69 FPS in Monster Hunter World (highest), 69 FPS in Call of Duty: Modern Warfare (high) and 70 FPS in PUBG running on Ultra.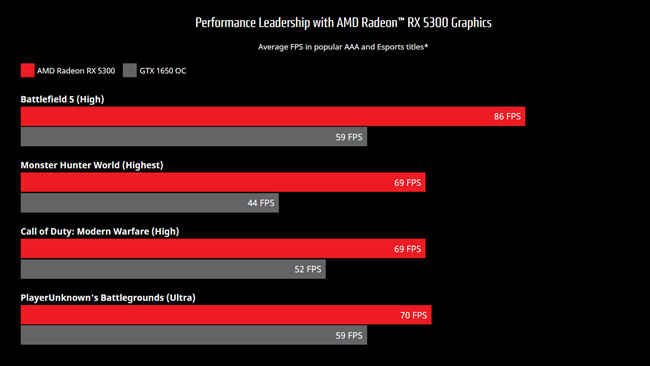 AMD Radeon RX 5300 graphics card price
AMD has not shared any official pricing for the RX 5300 nor have any partner cards arrived at Indian retail stores as of writing this. We expect the pricing to be between INR 13000 - 15000 based on the segment that the RX 5300 is competing in. Once we have a better idea of the performance, we will revise our estimates.

Mithun Mohandas
While not dishing out lethal doses of sarcasm, this curious creature can often be found tinkering with tech, playing 'vidya' games or exploring the darkest corners of the Internets. #PCMasterRace https://www.linkedin.com/in/mithunmohandas/