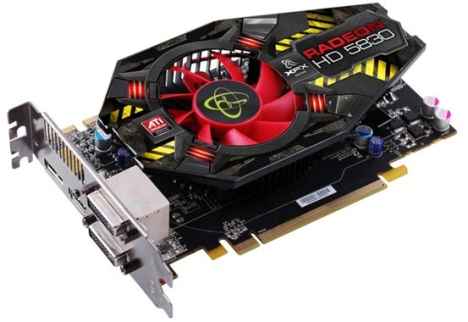 Truly fleshing out its DX 11 Empire, AMD has now filled its GPU range from the ATI Radeon HD 5400 series to the HD 5900 series with the launch of the ATI Radeon HD 5830 GPU, which will be priced at $239 in the US, between the HD 5850 ($259) and the HD 5770 ($239), positioning it exactly where a GPU was required.
The HD 5830 is a 1GB GDDR5 GPU based on the HD 5850's and 5770's 40nm fabrication process, but is more similar to the 5850, offering the same transistor count at 2.15 billion, as well as a 256-bit memory interface, which the 5770 does not share. It also offers only 16 ROPs, 1,120 stream processors, and 56 texture units as opposed to the mind-boggling 32 ROPs, 1440 stream processors, and 72 texture units in the 5850. With a higher core clock speed than the 5850 (800 Mhz compared to 725 Mhz), it is understandable that the TDP of the 5830 is higher, coming in at 175W, as compared to the 151W of the 5850.
While you could call the HD 5830 an affordable high-end GPU or a scorching mid-range one, it is quite apparent that it was launched for reasons apart from just filling a large price and performance gap between the 5850 and the 5770. With the staggeringly low yields of the 40nm fabrication process, especially on the completely SIMD-packed and super-clocked 5870, the 5850 was launched to use those fabricated GPU cards that could not meet the 5870's standards, and now, it follows that the 5830 is doing the same, except with the 5850, offering 6 disabled SIMDs and 2 disabled ROPs per memory cluster. The conclusion that several internet reviewers seem to share (those that have had a chance to test the product independently), is that the performance does not warrant the price, and that the HD 5830 should be priced closer to the HD 5770 when trying to bridge the price gap, instead of being priced closer to the high-end HD 5850, i.e., it should be more like $189, instead of $239.
Get a complete list of specifications here. You can also read Anandtech's review of the 5830 here.