AMD's answers NVIDIA's RTX 3070 with the competitively priced Radeon RX 6700 XT which will go on sale starting March 18, 2021. AMD promises to have more stock at launch.
AMD is expanding the Radeon RX 6000 family of graphics cards with the addition of the RX 6700 XT mid-range graphics card. The RDNA 2 RX 6000 series now includes the Radeon RX 6900 XT, RX 6800 XT, RX 6800 and the RX 6700 XT. This new card is positioned to compete against the NVIDIA RTX 3070 (Ampere) and is reportedly optimal for 1440p gaming. It features 40 Compute Units (CUs) and will have 12 GB of GDDR6 memory. The RX 6700 XT will go on sale in India on March 18, 2021. It's been a little over three months since the high-end RX 6000 series launched and AMD has been plagued by severe shortage of SKUs in the market. The global silicon shortage is showing little signs of improving any time soon but AMD has stated that they are taking steps to reduce the supply-demand gap. They are reportedly refreshing stock on a weekly basis and promise to have significantly more cards available for sale at launch.
In India, the official AMD website points to popular e-tailers and retailers who have stock of the cards. However, the cards are still sold at exorbitant prices by retailers across the country. AMD had previously declared the MSRP for their RX 6000 cards so as to educate customers and curb the price gouging that's happening in India but those efforts have borne little results. NVIDIA has also been plagued by poor stocks of their RTX 30-series cards but their situation isn't as bad as AMD's. NVIDIA even sells Founders Edition cards directly to consumers via their partner RPTech at the actual launch prices. However, the cards are only restocked once a month and quantities are often limited to 30-40 per SKU for the entire country. NVIDIA's partner cards being sold via retailers are often seen being sold at twice their actual prices.
AMD Radeon RX 6700 XT Specifications
The Radeon RX 6700 XT is based on AMD's RDNA 2 microarchitecture and uses 40 Compute Units (CUs) which sport clock speeds of up to 2424 MHz. Since each Compute Unit hosts one Ray Accelerator, the RX 6700 XT ends up with 40 Ray Accelerators which make use of the Microsoft DirectX Ray Tracing (DXR) feature. Compared to the RX 6800 family, the 6700 XT comes with 12 GB of GDDR6 memory which is connected to a 192-bit interface and has a peak memory bandwidth of 384 GB/s. The card also includes 96 MB of Infinity Cache, a local L3 cache equivalent that's meant to help reduce latency.
AMD Radeon RX 6700 XT Graphics Card Specifications RDNA 2 CU Clock Speed Memory Power" src="https://static.digit.in/default/415a72d9a9877e04a3fdd5043553cb55ef182a17.jpeg" style="border-style:solid; border-width:1px" title="AMD Radeon RX 6700 XT Graphics Card Specifications RDNA 2 CU Clock Speed Memory Power" />
Unlike the 6800 cards, the 6700 XT is a double slot graphics card with a twin-blower cooling solution. Lastly, it has a total board power of 230 Watts and will draw power via an 8-PIN and 6-PIN PCIe power connectors.
AMD Radeon RX 6700 XT Performance claims
AMD is positioning the RX 6700 XT to go up against the NVIDIA RTX 3070 and both cards are aimed at 1440p gaming. The following chart shared by AMD showcases some of the video game benchmarks across popular AAA titles pitting the RX 6700 XT vs RTX 3060 Ti vs RTX 3070.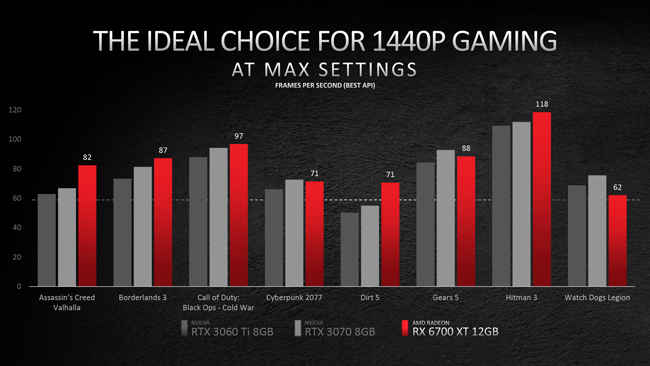 These are all benchmarks running at 1440p resolution and they portray the RX 6700 XT beating the RTX 3070 across all tested games except in Gears 5 and Watch Dogs Legion.
AMD Radeon RX 6700 XT Availability and Price
The AMD Radeon RX 6700 XT will be available for purchase in retail stores and via online stores starting March 18, 2021. The card is priced at $479 USD globally and in India it will be priced at INR 38,990 + 18% GST. This works out to INR 46,008. AMD has put up a shop page on their Indian website to guide customers to online stores which are currently stocking Radeon RX 6000 graphics cards. Globally, AMD sells their reference cards on their official website.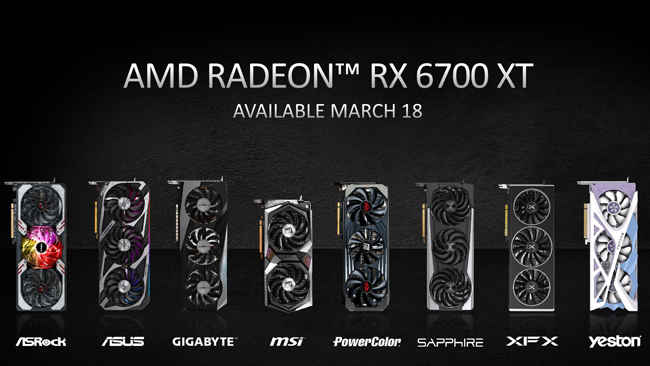 AMD teased board partner cards during the launch livestream and it appears that most of them will have a custom cooler design.