ASRock Inc., today excited to announce that it's top-of-the-range Fatal1ty 990FX Professional now supports the latest AMD AMP (AMD Memory Profile) technology which allows overclockers to easily get more speed from their memory modules. More to the point, the company's flagship board Fatal1ty 990FX professional is the only on-sale motherboard offering AMD AMP memory overclocking kit in the consumer market!
Stepping to the future memory overclocking now. ASRock / Fatal1ty 990FX Professional motherboard even brings together the Intel's exclusive XMP profile, plus the AMD's hottest AMP support for overclocking. It is the first AMD-chipset based motherboard supporting both Intel's XMP and AMD's AMP memory overclocking kits in the world.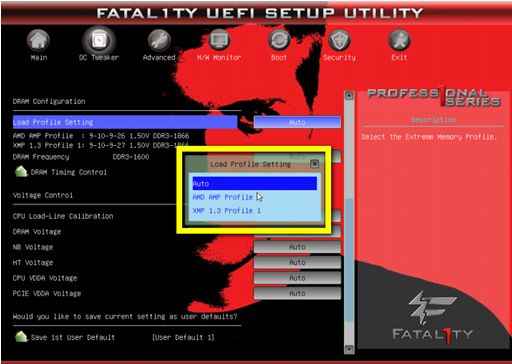 As you can see from the fancy UEFI interface which comes with Mr. Wendel's face, when installing AMD's memory modules, the UEFI can load both AMD's AMP Profile and Intel's XMP Profile. The UEFI BIOS is the best and easiest way to overclock RAM. If you pair ASRock's 990FX Professional and AMP-capable memory modules, overclocking memory via AMP profile can become a near one-button process.

When it comes to RAM overclocking, you should be able to get the grips with the right motherboard. The enthusiast-level Fatal1ty 990FX Professional is a no-compromise board capable of outperforming any other with superb performance and features. It's well endowed with premium gold capacitors and special Fatal1ty Mouse Port. The board even supports the much-anticipated AMD AMP profile so it's easy to get maximum memory performance from your system. To early enjoy the AMD's newest AMP memory technology, all you need to do is to just simply update your Fatal1ty 990FX Professional to the latest BIOS version.
Get more from your memory is much easier now. ASRock consistently strikes the right combination of value, design and dependable mainboard solutions. Fatal1ty 990FX Professional is just the one that delivers extreme amounts of overclocking. Attention here is that there will be more models supported with AMD's AMP soon.
For more product information, please visit ASRock's Fatal1ty site.