Acer has announced new gaming laptops and desktops at its next@acer global press conference. Joining the company's gaming desktop ranks are the Acer Predator Orion 5000, Orion 3000 and the Acer Nitro 50. Alongside the Nitro 50, Acer has also unveiled the Nitro VG0 and RG0 series monitors, which are aimed at gamers and have also bagged the 2018 Red Dot Design Awards. The Predator Orion 5000 and the Predator Orion 3000 series of gaming desktops will be available in North America from July starting at $1,499 (Rs 1,02,500 approx) and $999 (Rs 68,000 approx) respectively. The Acer Nitro 50 gaming desktops will be available in North America from July starting at $799 (Rs 55,000 approx), whereas the Nitro VG0 and the Nitro RG0 gaming monitors will be up for sale in North America from July starting at $129 (Rs 8,817) and $169 (Rs 11,500) respectively.
Acer Predator Orion 5000, Orion 3000 specifications and features
The Acer Predator Orion 5000 is the company's top of the line gaming desktop, which comes with up to 8th Gen Intel Core i7+ 8700K processors paired with the latest Intel Z370 SoC, up to 32GB of Intel Optane memory, and up to 2-way Nvidia GeForce GTX 1080 Ti GPUs in SLI configuration. The desktop flaunts a transparent side panel and comes with the IceTunnel 2.0 airflow management design, which is said to segment the system into different thermal zones and provide each sector with its own airflow tunnel to remove heated air. There is also a front mesh panel with dust filters. Additional features of the desktop include 'Killer' LAN Ethernet, cradles for audio headsets, and a carry-handle for portability.
Coming to the Predator Orion 3000 series, it is equipped with up to 8th-generation Intel Core i7+ processors, and up to Nvidia GeForce GTX 1080 GPUs. Same as the Orion 5000, the gaming desktop is also VR-ready, support 4K gameplay and comes with configuration of up to 32GB Intel optane memory and up to 64GB DDR4 RAM support. In terms of design, both the Orion siblings are similar.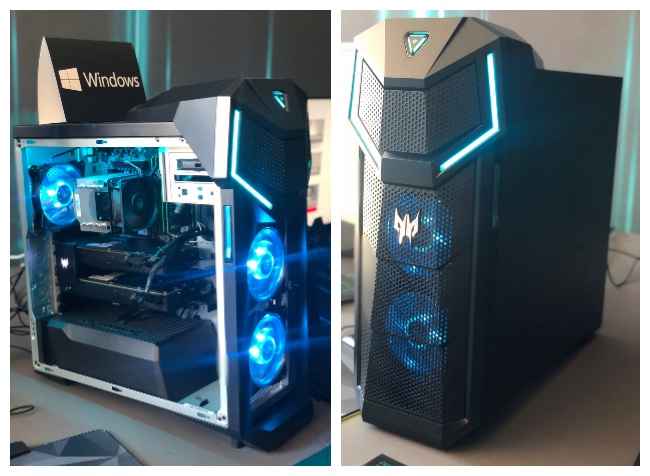 Acer has also expanded its gaming gadget and accessory line with some new Predator Accessories. The company showcased the new Predator Cetus 510 gaming mouse that comes with an optical sensor and supports up to 16,000 DPI. There is also the Predator gaming chair which features detachable cushions, and lumbar spine support for gamers, along with the Predator Hard Case, Predator Aethos 500 mechanical keyboard, and a Predator Mousepad.
Acer Nitro series gaming desktops and monitors
If Orion is company's flagship gaming desktop range, then the Nitro series caters to gamers on a budget. The Nitro 50 Series features armour-inspired housing with front-facing LED lighting. They are powered by up to 8th Gen Intel Core i7 processors, and come equipped with up to GeForce GTX 1070 graphics cards. The desktop PCs can deliver videos with 4K resolution and can support up to four displays simultaneously. They feature up to 3TB HDD and a 512GB SSD and also sport a wireless charging deck for Qi-enabled charging of supported devices. For connectivity, the Nitro 50 Series comes equipped with Realtek Dragon LAN that is said to optimise network speed for gaming, browsing, and streaming.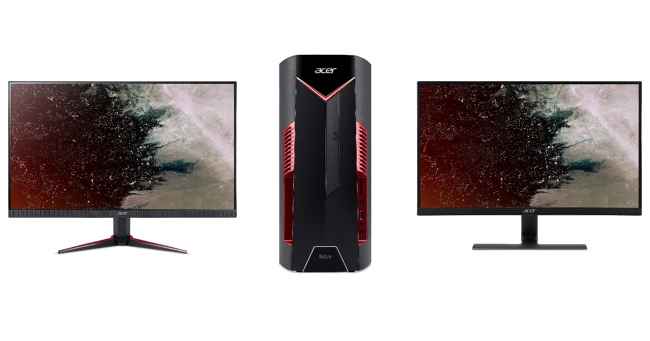 In the monitors category, Acer has unveiled the new Nitro VG0 and RG0 Series IPS monitors that come with AMD Radeon FreeSync and features Visual Response Boost (VRB, which is said to decreases blur in fast-moving images to achieve the effect of a 1ms response time, along with up to 144 Hz refresh rates. The monitors feature Integrated 6-axis color adjustment that enables gamers to fine-tune colour, hue, and saturation levels, while built-in black boost enables gamers to select from 11 black level options.
The Nitro VG0 Series will be available in 27, 23.8 and 21.5-inch display panels with resolutions of 4K ultra-HD, WQHD, or full-HD. On the other hand, the Acer Nitro RG0 Series features a .27-inch 'thin' profile and comes in options of 27 and 23.8-inch variants. Acer says that the IPS panels on the new monitors provide wide viewing of up to 178 degrees horizontally and vertically. The monitors can also tilt from -5 to 20 degrees (-5 to 15 degrees for RG0 series) and meet 72 percent of the NTSC standard while delivering brightness of 250 cd/m2. They are also equipped with two 2W stereo speakers for audio and come with HDMI, VGA, and DisplayPort ports.
The two monitors also come with a VESA mount for being wall mounted. The display modes on the Nitro VG0 and RG0 series include Racing, Sport, User, Standard, Action, ECO, Graphic, and Movie.