Xiaomi patents a full-screen smartphone with an under-screen camera and a compartment to store your wireless earbuds in China and Netherlands. The patent renders show earbuds slot into cylindrical shafts at the top of the phone, which can double as a loudspeaker as well.
This is not the first time Xiaomi has shown interest in a bold design idea that looks very intriguing. Having released phones like the Mix and the Mix Alpha that defied conventional smartphone designs in the past, Xiaomi has a history of experimenting with new designs.
Inspired by the new patents, LetsGoDigital has created design renders as per their imagination of the idea.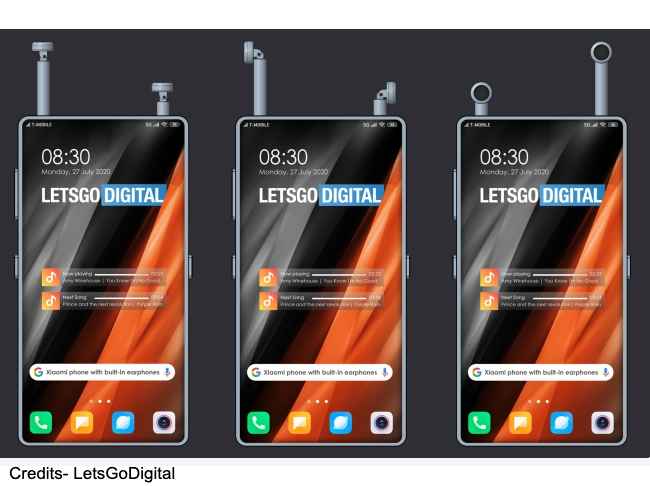 According to the two patents, the phone will have two holes at the top that will accommodate wireless earbuds. The earbuds point upward when placed into the shaft, but it can pivot at different angles to fit the ears well. The idea is very similar to how Samsung provides the S-Pen in the Note series handsets.
By the looks of it, the earbuds might also double as a loudspeaker when it's in the slot.
Can we see this in a future smartphone?
It's too early to say if it is going to be seen on a future smartphone, but it's a design that can be made possible after working on the underlying issues. For example, such a compartment will require a lot of space depending on the size of the earbuds. A lot of components will have to be readjusted and replaced by smaller parts, which will entail high manufacturing costs. Similarly, making compact earbuds with good battery life and sound isn't an easy combo to make under a budget. Also, this might add bulk to the smartphone, which is not something many would look forward to.
Moreover, if the earbuds use the smartphone's battery to charge, the capacity will also need to be increased. And not to forget, OEMs have been ditching the 3.5mm audio jack (a single unit) to fit bigger batteries on phones. This will be a big challenge.
Aside from the production cost, the company will also have to take care of hygiene too. The earbuds will be exposed to the outside world, doubling as a loudspeaker and will then go into your ears. So this is something that the company will have to consider too.
In case Xiaomi can achieve this design, it might not cost anything that an ordinary user can afford for at least three generations. The benefits, however, are tempting. Having earbuds inside the phone means you don't need to carry an additional device with you and fewer chances of forgetting them unless you forget your phone.
Likely, this design will not become commercial anytime soon. However, we do feel that if achieved this is a more useful design for a future phone compared to the, Mi Mix Alpha, which is not more than just an all-screen gimmick.