The Redmi Note 2 and the Redmi Note Prime, which were launched yesterday alongside the MIUI 7 in China, may not come to India, at least with their current SoC. This is due to the fact that the phone is powered by a Mediatek Helio X10 SoC and Xiaomi is currently not allowed to sell phones powered by a Mediatek chipset in the country. This ban was put in place by the the Delhi High Court on the Chinese in December of last year.
To recall, last year Ericsson filed a patent infringement charge on Xiaomi claiming that the chipset used and infringed upon eight of its Standard Essential Patents. After this ruling, Xiaomi was banned in India. But after a week, the ban was partially lifted by the court. In a second hearing, the Chinese phone manufacturer was granted a reprieve by allowing it to sell phones powered by Qualcomm SoCs. Since, then Xiaomi has been selling only Qualcomm powered phones in India.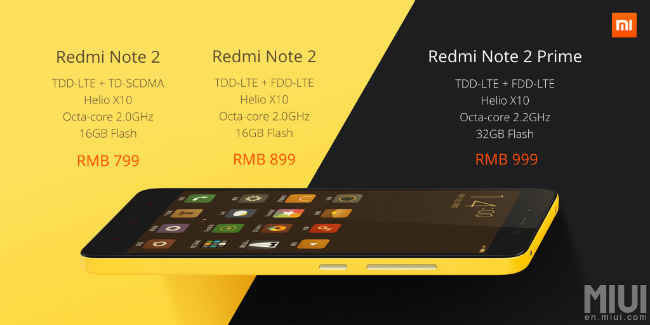 It is now speculated that if and when Redmi Note 2 gets launched in India, it might have to make do with a Qualcomm Snapdragon 615 SoC. This octa-core SoC is quite capable, but comes nowhere near the Helio X10 in terms of performance. The Helio X10 is a flagship class SoC that currently powers the HTC One M9 Plus. Moreover, The Snapdragon 615 is already being used by Xiaomi's Mi 4i and the much affordable, Yu Yureka Plus. And, if Redmi Note or Prime is launched with the chipset, it might end up seeming like a stale attempt.
We also hope that the company launches its flagship, Mi5 smartphone, in the coming months so that the monopoly of the OnePlus 2 could be challenged. There have been plenty rumors regarding the phone as it is expected to trump the OnePlus 2, not only features, but in design as well. Coming back to the Redmi Note 2 and Prime, we believe the phone will have a better chance in the market if it comes with Helio X10. So, Unless Xiaomi is able to get the ban cleared by the authorities, Indian consumers might end up with a budget phablet with budget specs.
Source: gadgetraid