Xiaomi is expected to unveil its Mi Mix 3 handset in September and ahead of the launch, the handset has leaked in a live image. Slashleak has posted a live hands-on image of the device, giving an idea of what design changes Xiaomi could introduce with the Mi Mix 3. Going by the image, the smartphone might feature a near-bezel less edge-to-edge display that seems to be larger than the one we have seen on the Mi Mix 2S. As there is a thin bottom bezel, the device looks like an iPhone X but without a notch on top of the display.
The front-facing camera not visible in the image, but there a small slit for the earpiece is clearly visible. As for the front camera, a previous report tipped that the Mi Mix 3 might get a mechanical pop-up camera, same as Vivo used on its Apex and Nex smartphones. This surely is probable, but it will be interesting to see how Xiaomi gets around Vivo's patent of the pop-up camera to do so. Coming back to the image, the volume rockers and the power buttons are seen on the right edge of the device.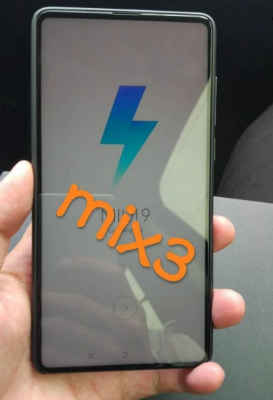 The alleged Mi Mix 3 in the image is seen running on MIUI 9 instead of the latest MIUI 10. This raises some doubts as to why would the company be testing an older operating system on a new handset. One plausible explanation is that the device is a prototype and is being tested in a stable environment, given that the MIUI 10 was announced recently and is still under development for being seeded to Xiaomi devices. As there is only one image that shows off the smartphone's display only, there is no information on how the rear camera setup on the device could be.
Speaking of the MIUI 10, Xiaomi recently announced that it will be available for 28 of its device. Out of these 28 devices, 25 are available in India and the list includes smartphones like the Mi 5, Mi 4, Mi 3, Redmi Note 5, Redmi Note 5 Pro, Redmi Note 5A, Redmi Note 5A Prime, Redmi Note 4, Redmi Note 3, Redmi 5, Redmi 5A, and more. You can check out the entire list here.