Vostro 3501
Popular tech to stay connected anywhere. Save more on exciting Dell PCs.
Click here to know more
Advertisements
Xiaomi has so far been expected to launch a new flagship smartphone alongside a bunch of other devices at its event in Shenzhen, China on May 31. Now, latest reports suggest that the Mi Note 5 - a premium smartphone in the company's lineup, may also be a part of the devices unveiled at the event. The rumoured Mi Note 5 will be the successor to the Mi Note 3, and skip the 'Note 4' title in favour of being called 'Mi Note 5'.
The news comes courtesy of leaked promotional material that has been linked to the device, spotted by GizmoChina. Reported specifications of the device include a 5.99-inch display with Full Screen 2.0 design (with 18:9 aspect ratio), the Qualcomm Snapdragon 835 SoC, options for 4GB and 6GB of memory, 64GB native storage, four-axis optical image stabilisation for its primary camera module and 43 LTE band support. This hints at possible thin bezels around the display panel, and suggests that the phone will be a global model. However, there is no inclusion of details pertaining to its camera module, and the leaked material does not specify if the smartphone will come with a single-sensor primary camera module, or a dual-camera setup.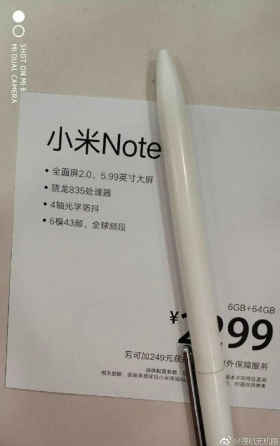 The leaked material also suggests that the Xiaomi Mi Note 5 will be launched at CNY 2,299, or approximate Rs. 24,400, for the 4GB RAM variant. While there are no explicit mentions of the 6GB RAM variant, the pricing is likely to be around Rs. 26,500. Xiaomi seems to be following a similar pattern as OnePlus by skipping the '4' nomenclature with this premium smartphone, similar to how OnePlus skipped the OnePlus 4 in favour of the OnePlus 5. Xiaomi has also confirmed its decision to skip a specific nomenclature in favour of the succeeding order, having confirmed the presence of the Mi 8 as the successor to its previous generation flagship device, the Mi 6.
Xiaomi is set to host a major event in Shenzhen, China on May 31, where it is expected to launch multiple devices. Alongside the Mi Note 5 reported here, the company is also expected to launch its new generation flagship smartphone, the Mi 8, along with MiUI 10, the Mi Band 3 fitness tracker, the Surge S2 proprietary SoC and even a wireless charging pad for its new devices. This also raises a possibility that the likes of Mi 8 and Mi Note 5 smartphones may actually feature wireless charging as a key feature.
Note: Image of Xiaomi Mi 3 above is for representational purposes only.