There have been a lot of rumours about Xiaomi's flagship for 2018, which was presumed to be the Mi7. Gizmochina has spotted an invitation sent out by the company over Weibo that reveals that the company is ready to launch its next flagship in China, but it will be called the Xiaomi Mi 8. According to the invite, the phone is set to launch in China later this month.
May 31 will see the launch of the Xiaomi Mi 8 Anniversary Edition to commemorate 8 years of the brand. Not much is known about the device itself, but rumours have suggested that it will be powered by the Qualcomm Snapdragon 845 processor and could sport a 6.01-inch edge-to-edge OLED display. There's also allegedly a 4000mAh battery with support for Quick Charge. What is said to be special about the Mi 8 will be the use of depth-sensing modules very similar to those found on the iPhone X for 3D facial recognition. An in-display fingerprint sensor will also be present on the smartphone as Xiaomi CEO Lei Jun said so in a post on Weibo.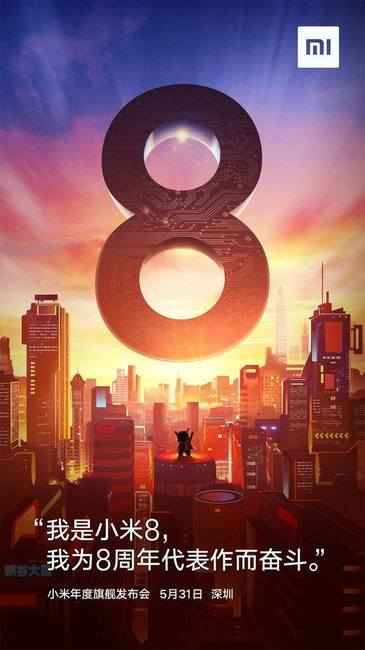 With the launch of the phone just a week away, it would be interesting to see which markets Xiaomi will take this smartphone to outside of China. The company skipped launching the Mi6 in India and over a period of time, has doubled down on its efforts in the budget segment, which is where the company has gained massive amounts of loyalty. Given that the company didn't launch their flagship in India before, it remains to be seen if Xiaomi will bring it to India. Xiaomi had not launched the Xiaomi Mi Mix in India, but the company did bring the Mi Mix 2 to the country. For now, however, we will have to just settle for the China launch to see what features the phone will finally have and what price it will be launched at.
If Xiaomi is indeed celebrating its 8th anniversary, it would seem like an odd choice of year at first. Typically, the milestone for such celebration is 10 years, like Apple did with the iPhone X. However, during the rumour build-up of Apple's iPhone X, features like the in-display fingerprint sensor were plenty talked about and then removed. FaceID ended up being a part of the phone, giving birth to the trend of the Notch. It is entirely possible the Xiaomi is trying its hand at giving the consumers something that Apple wasn't able to deliver. Calling this the Mi 8 Anniversary Edition would make sense culturally as the number 8 is regarded as the luckiest number in china. This is because pronunciation of the number 8, 'Ba' in Chinese, sounds similar to the word 'Fa', which means to make a fortune. It contains meanings of prosperity, success and high social status too, so all businesses favor it very much.