OnePlus recently seeded OxygenOS Open Beta 17 for the OnePlus 6 and the Open Beta 9 for the OnePlus 6T. The two phones received a slew of new features and one of them, called Intelligent cleanup, was added to the phones' File Manager. This new feature has drawn the irk of OnePlus users as its said to be sending data to a Tencent server located in Singapore. As per a OnePlus forum post, the information of data being sent to a Tencent server in Singapore is displayed in the File Manager app's privacy policy. Additionally, instead of using Android permission controls, the feature apparently uses local permissions.
A OnePlus user has raised a petition to get the option removed from the OnePlus 6 and the OnePlus 6T phones. It should be noted that the new Intelligent cleanup feature is only available in India for now. While any data being collected by the Tencent server is said to be protected by GDPR policies, the user who posted the petition reminds others that Tencent isn't exactly stringent when it comes to protecting user data.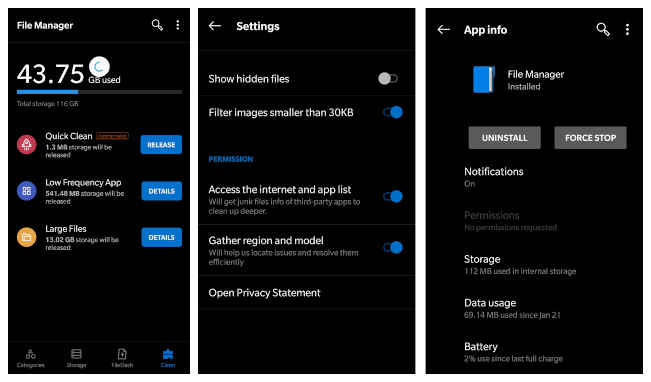 Additionally, as Android already offers storage management options, there's actually no need for the new option as it would only serve as bloatware, there being no option to remove it. There are also third party apps like Google Files app (previously called Files Go) that offer similar functionality.
Adding bloatware to the company's existing devices goes against its recent OnePlus 7 Pro advertisement. The phone manufacturer recently takes took a jab at Samsung and its other rivals for including bloatware on their devices. The post where the petition for removing the feature is up also points out that the option to view large files is moved under the Cleanup tab, which could confuse new users to accidentally delete files.