OnePlus will not launch the OnePlus 8T Pro, confirmed by CEO, Pete Lau. Says, the OnePlus 8 Pro has no scope for upgrade.
The OnePlus 8T 5G is going to be the latest to join the company's flagship range of smartphones after the OnePlus 8 and 8 Pro, but the 8T won't arrive with a 'Pro' variant alongside. Earlier this month, leakster Max J suggested that the company might not launch the OnePlus 8T Pro, which is now confirmed by CEO, Pete Lau.
The company started releasing the 'T' variants of OnePlus smartphones with the OnePlus 3T, which brought a battery and front camera update to the OnePlus 3. Similarly, the Pro variants made their debut with the OnePlus 7 Pro, followed by the OnePlus 7T Pro.
Looks like the company has decided not to go with an 8T Pro variants this time. But why?
Why no OnePlus 8T Pro?
OnePlus CEO, Pete Lau, took Chinese social media website Weibo to share the news that there won't be a 'T' variant of the OnePlus 8 Pro. The reason given in the Weibo post is that there is no room for an upgrade in the Pro variant, and those who would like the best experience can go for the OnePlus 8 Pro, as it's still a competent device.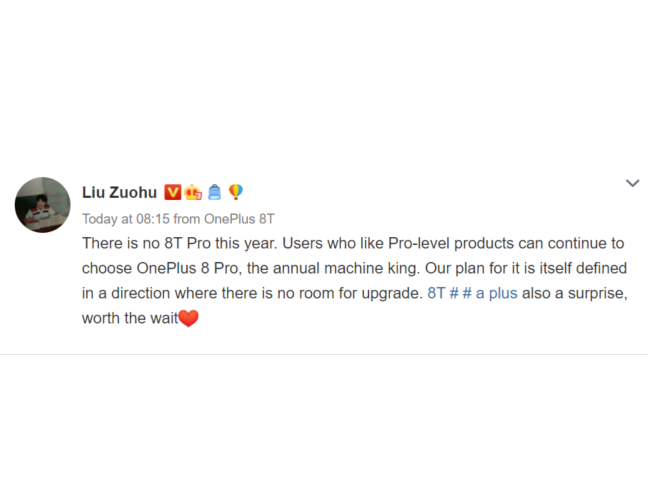 Here's what OnePlus CEO, Pete Lau, posted on Weibo.
This means that the OnePlus 8T could be a standalone smartphone at launch. However, the same Weibo post suggests that the company could be coming up with some surprises for its fans.
The OnePlus 8T has been making headlines since it was first leaked and the company has teased some of its key features as well. Pre-bookings for the 8T are starting from September 25 in India, ahead of its official launch on October 14. OnePlus 8T is confirmed to feature 65W fast charging courtesy of Warp Charge 65 tech that was revealed recently and a 120Hz refresh rate display. Like all OnePlus devices, the OnePlus 8T has been leaked previously with some of its key features spilt way ahead of the launch.