The Samsung Galaxy Note10(₹ 73600 at amazon) is heavily integrated with Microsoft's services. Seamless flow from PC to mobile, to enhanced services in Microsoft apps. Samsung also unveiled a Snapdragon 8CX-powered, always-connected PC called the Galaxy Book S which runs on Windows 10, possibly the slimmest and lightest notebook so far. That, and Satya Nadella's presence at the launch event in New York, Samsung and Microsoft have teamed up to make Android and Windows join forces to catch up to Apple's fluid ecosystem.
Earlier at the iPad launch event, Apple revealed iPadOS, tailor made for the iPad. One of the new features in the OS is the ability to mirror a macOS display seamlessly via a Lightning cable, with the option to extend and duplicate the display as well. Before that, Apple already allowed users to reply to texts, take calls and sync photos from the iPhone and iPad, making for a tightly-knit ecosystem.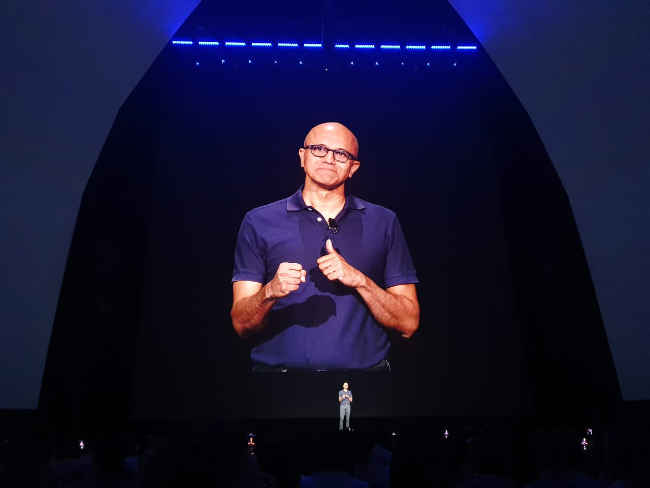 Micrsoft CEO Satya Nadella at the Galaxy Unpacked event in New York
Such integration was so far absent in the Android and Windows space. Not totally absent, though. Android has a few third-party apps that mirrors the phone display on a desktop and Microsoft had started the journey way back during its Lumia days with Windows Continuum which allowed high-end Lumia phones to sync with PCs, letting users send and receive texts, check photos shot from the phone and much more. Lacking mass uptake, the project died out but Microsoft once again attempted it with the Your Phone app. Part of Windows 10, the Your Phone app also does the same tasks, a little more seamlessly, but not without its own issues. For one, it's a pain to pair a phone with the app on the PC.
Also Read: Samsung Galaxy Note10+ vs Apple iPhone XS Max vs OnePlus 7 Pro vs Huawei P30 Pro: Spec shootout
Seamless sync between the Galaxy Note 10 and Windows 10
With Samsung on board, the process is expected to get a lot smoother. As part of the collaboration, Samsung and Microsoft are bringing some exclusive new features that should make cross-platforming something you actually look forward to.
For one, the Your Phone app will be pre-installed on the Galaxy Note10 allowing you to easily sync texts and photos. Notification alerts, in-line replies to simply mirroring the phone's display to reply to messages, it's all natively possible with the Note10. The ability to answer calls via a laptop will also be added later this year.
OneDrive will also sync photos stored in the Samsung Gallery, allowing you to make cloud backup of your photos and access it anywhere. OneDrive will also have a personal vault where you can store vital information like passwords, credit card info, driving license, etc. securely on the cloud. It's accessible using Samsung's biometric authentication and protected by both Samsung Knox and Microsoft's cloud security.
Microsoft's head of mobile and cross-device experiences, Shilpa Ranganathan was present at the demo zone to showcase how it will all work. Connecting a USB-C cable to the Galaxy Note10 and a laptop will power up Samsung DeX making all the installed apps available on your PC. No need for a dock or an HDMI cable anymore.
On top of that, the entire Microsoft Office suite, including Word, Excel and OneNote will be pre-installed in the Galaxy Note10, and the Outlook app for Android will be revamped and made available for the new Galaxy Watch Active 2.
Are the new features enough to convince an Apple user?
The reason Apple users don't stray too far from the Apple ecosystem is how tightly integrated the devices are with each other. It's also the reason why they avoid getting into Android and Microsoft's walled gardens. Such seamless flow of tasks between devices wasn't possible before. Both Android and Windows are still too fragmented to ever make it a hundred percent smooth flow. But with the Galaxy Note 10's hardware and Microsoft's newfound vision of making its presence felt just about everywhere you go, there are signs of promise. On paper, these new features should be enough to convince an Apple user to switch over to the other side. But will they work just as seamlessly? That remains to be seen.