With an aim to survive the increased competition and stay on the top of the smartphone brand chain in the Indian market, Samsung has been rolling out high-end features of its S-series and Note series smartphones to lower-tier phones. The move effectively has seen Samsung gaining more market share in India. Buoyed by these results, the South Korean electronics giant is reportedly planning to introduce a triple-lens camera setup and an in-display fingerprint sensor to its A-series (2019) device "even before the full adoption for its flagship devices."
According to a report in Korean news outlet, The Investor, the firm's global hardware development team, which is responsible for developing lower-range phones, has started a research to introduce key flagship functions to its Galaxy A series. One of the features being considered is a "super-wide angle" triple-lens camera that is claimed to greatly improve landscape photography. The other feature is an on-screen fingerprint scanner. It is highly reported that the upcoming Galaxy S10 could feature an ultrasonic scanner -- a technology which Samsung has reportedly been working on since long. Future Galaxy A series phones are expected to have a less-advanced optical scanner.
The report also claimed that Samsung is likely to renew its budget phone push amid lukewarm sales of its flagship phones. "Since the Galaxy Note 7 fiasco, Samsung has been cautious about adopting new technologies or parts from new suppliers. But it seems to be changing its strategic direction in order to further strengthen competitiveness of its budget phones," ET News quoted an industry source as saying. The source told the news outlet that the company has also decided to use more China-made parts for price benefits.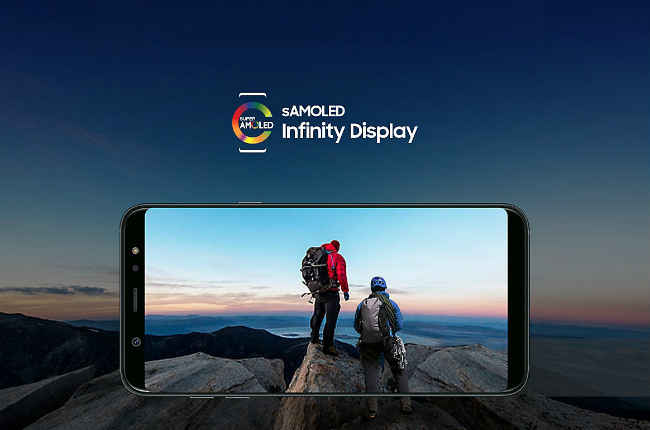 The Samsung Galaxy A6+ with Infinity Display design
In May, Samsung launched four new smartphone, including A6 and A6+. The devices come with the company's Infinity Display design, which is claimed to offer 15 percent more display area, without increasing the overall size of the device. The phones come with an in-display home button, while the fingerprint sensor is located at the back of the device. The new A-series of devices feature a metal unibody design with Samsung's Super AMOLED display. The company has also introduced a new Chat-over-Video feature that lets users chat through a transparent chat window and keyboard, while a video is running.
According to market research firm, Counterpoint Research, Samsung has regained the top position to ship maximum number of smartphones capturing 29 percent of the total Indian market share in the second quarter of 2018. Xiaomi -- which topped its South Korean counterpoint in the fourth quarter of 2017 and first quarter of 2018 -- came second in the quarter with a market share of 28 percent. Samsung regained the leading position back after receding it to Xiaomi two quarters ago. The success of Samsung during the quarter can be attributed to its refreshed J series as it launched the most number of models as compared to any brand across multiple price points during the quarter.