Highlights:
Samsung may launch its foldable Galaxy F smartphone on February 20.
Samsung has put up billboards in Paris with "The future unfolds" and "February twentieth" written on them.
The company is already launching the Galaxy S10 phones on that day.
Samsung has already announced that it will launch the next generation of Galaxy S Series devices, the Galaxy S10, at an 'Unpacked' event on February 20 in San Francisco, US. A report has now claimed that the South Korean company may launch the foldable smartphone at the same event. This time Samsung is expected to launch the fully-baked version of the phone, reportedly called the Galaxy F, or the Galaxy Fold.
Samsung has put up billboards on Paris's Place de la Concorde building, one of the major public squares in the city. The billboards have text written on them in Hangeul Korean script, which translates to "The future unfolds" and "February twentieth", suggesting the foldable phone launch on February 20. There are chances that Samsung may only be referring to the launch of the Galaxy S10 devices as it is expected to introduce industry-first innovation in these phones.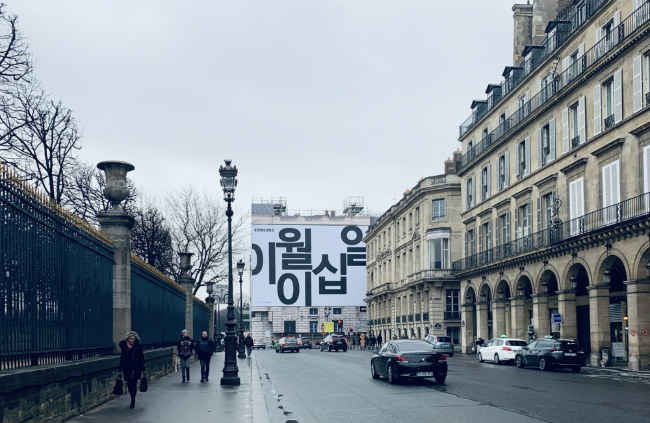 Over the past 10 years, Samsung has established a rich legacy of smartphone innovation that has helped make people's lives smarter and easier. Now, Samsung is celebrating a decade of game-changing innovations with a set of captivating billboards that pay homage to the company's Korean originality, and tease an exciting future for the Galaxy lineup. In other words, a bold new vision for the Galaxy brand that will drive smartphone innovation for the next 10 years and beyond," the company said in a blog.
Samsung has already unveiled the foldable phone at its annual developers conference last year, but it only showcased the phone camouflaged in low-lit conditions to apparently hide the design and make of the phone. The company also announced that the upcoming phones will come with a new UI, called the OneUI, which will be based on Android 9 Pie. The OneUI is already available on a couple of devices like the Samsung Galaxy Note 9.
In November, DJ Koh, CEO of Samsung's Mobile Business Division announced that Samsung will manufacture at least one million units of the foldable smartphone. He also said that he met with Google CEO Sundar Pichai and formed a team that will focus on the development of a new UX of the foldable phone. Koh also said that like the Galaxy S and Galaxy Note series, the foldable series will be launched every year but only in selected markets.
Related Read:
Samsung's foldable smartphone could get 8GB RAM, dual cameras and a massive battery: Report