Highlights:
Regular Galaxy S10 and Galaxy S10+ to have triple rear cameras
Galaxy S10 Lite to have dualrear camera
All models may have 3.5mm jack
Contrary to previous reports which said that the Samsung Galaxy S10+ will have a quad camera setup on the back, a new report has claimed that the smartphone will only have three cameras - just like the regular Galaxy S10. The report also mentions that the Galaxy S10 will have a single punch hole selfie camera and the Plus variant will have two selfie shooters. What's more, the South Korean giant is said to ship these phones with a 3.5mm jack.
The report in PhoneArena also asserts that there will be three Galaxy S10 models - regular, Plus, and Lite - which will vary in size, features and design. Also, the Lite version is said to bear two rear cameras. The Galaxy S10+ is said to feature a 6.4-inch display, while the Lite and the regular models are claimed to have 5.8-inch and 6.1-inch displays, respectively. Samsung is expected to use OLED displays with 2K+ resolution in all the three models.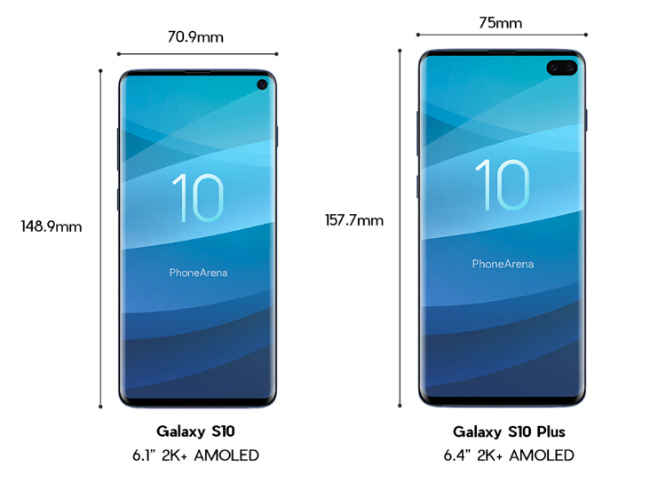 When it comes to the dimensions of the smartphone, the Samsung Galaxy S10+ could measure 157.7 x 75 x 7.8mm, while the regular Galaxy S10 is said to be of 148.9 x 70.9 x 7.8mm dimensions. As mentioned, all these models will have 3.5mm headphone jack, but Samsung may opt to remove it in the Galaxy Note 10.

There is a mention of the rumoured fourth 5G-capable S10 but the tech news platform could not confirm its existence. Multiple carriers in the US were reported to be working with Samsung on its 5G device. At the recently concluded Snapdragon Technology Summit in Hawaii, Justin Denison, Senior Vice President of Mobile Product Strategy and Marketing at Samsung Electronics America announced that the South Korean giant is looking to bring the first flagship 5G smartphone to the US in the first half of 2019, using the Snapdragon 855 processor with the 5G X50 modem. The smartphone will be made by Samsung and the network will be provided by Verizon, but it is not clear whether the 5G smartphone will be the Galaxy S10+. The 5G model of the upcoming flagship was spotted with two model numbers, SM-G977U and SM-G977N. These could be two country-specific variants such as one for the US market and the other for the South Korean market.
Image courtesy: PhoneArena
Related Read:
Samsung Galaxy S10+ 5G variant
Samsung Galaxy S10 Rumour Roundup