The Samsung Galaxy Fold might finally release in September, according to information relayed by noted tipster Evan Blass. The launch date for the revised Samsung Galaxy Fold is set for September 27. Blass first wrote the date as a tweet and then posted an alleged screenshot of a display (possibly of the Galaxy Fold) with the date Friday, September 27.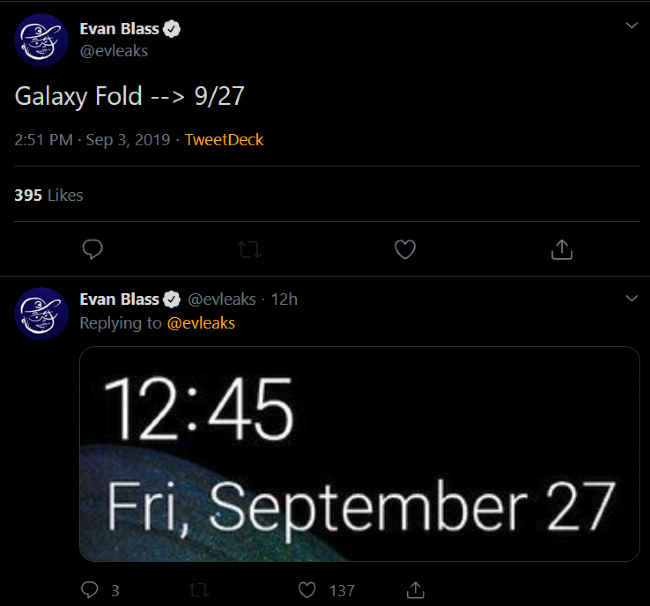 A new report from South Korea also claimed the users who pre-ordered the Galaxy Fold in the country will be receiving their devices on September 11. We expect Samsung to 'reannounce' the phone at IFA on September 6. The same report states that Samsung is preparing for a batch of 20,000-30,000 units as part of the first phase of sales in South Korea. But, another report also claims the number of units is fewer, some 2500 or so, out of which 300 to 400 units will be made available to each South Korean network carrier.
It was earlier rumoured that Samsung will indeed launch the Galaxy Fold in September, but the exact date wasn't confirmed. Samsung had to postpone its plan of launching the product to the market after tech reviewers who received the device for review peeled off a protective layer on the display that looked like a screen protector.
Later in July, Samsung detailed the changes it had made to the Galaxy Fold's design to make it more durable. For one, there is a new hinge mechanism along with an extended protective layer on the display which prevents particles from getting in and damaging the panel. Samsung has also said it has made the UI more user-friendly with support for more apps for the foldable display.