#IBMCodePatterns, a developer's best friend.
#IBMCodePatterns provide complete solutions to problems that developers face every day. They leverage multiple technologies, products, or services to solve issues across multiple industries.
Click here to know more
Advertisements
By now the world knows that the Samsung Galaxy S9(₹ 24999 at flipkart) and S9+ are set to launch on February 25, a day ahead of the Mobile World Congress 2018. Leaks and rumours about the specs, design and features of the two Samsung flagships for 2018 have been circulating the web for a long time. Now, a fresh leak by reliable tipster Evan Blass shows off the new Samsung DeX Pad, successor to last year's DeX Dock which was used to provide a desktop experience with the Galaxy S8.
Leaked images of the new Samsung Dex Pad show a redesign of the accessory. With the new design, the DeX Pad will dock the Galaxy S9 using a USB-C port. The device is also seen sporting a fan to keep the phone cool while it's docked atop the accessory. There are multiple ports seen on the other end of the DeX Pad. There is an HDMI port for connecting the DeX Pad to a monitor. In addition, the DeX Pad features two USB-A ports to connect peripherals and another USB-C port for powering the device.
The DeX Pad images reveal another key piece of information about the Galaxy S9 - a 3.5mm headphone jack. Yes, the image of the Galaxy S9 mounted on the DeX Pad shows a headphone jack at the bottom of the phone. A speaker grille can also be spotted at the bottom of the phone, right next to the USB-C charging port. Moreover, the smartphone is seen featuring ultra-thin bezels, refuting reports that the bezel size on the phone has increased.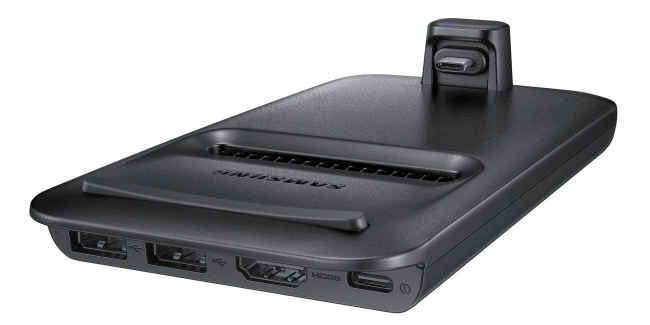 Inclusion of the headphone jack on the Galaxy S9, and possibly the S9+, is a welcome move by Samsung since most other smartphone makers have already ditched the same for their respective flagships.
The Galaxy S9 and S9+ are expected to sport 5.65-inch and 6.1-inch screens, respectively. Both smartphones are rumoured to come with an 18.5:9 display aspect ratio. A Snapdragon 845 chipset is the most obvious choice for SoC, while Samsung's own Exynos 9810 SoC is also expected to feature within the phones in certain markets, including India. The Galaxy S9 and S9+ could support the variable aperture technology, which first debuted on Samsung's China exclusive flip phone, the W2018. It's rumoured that the phones will be able to capture 1,000fps Super Slo-mo videos.