Reliance Jio has just concluded an event wherein it launched the iPhone 8 and iPhone 8 Plus with a 70 percent buyback offer and special Rs 799 and Rs 9,999 recharge plans. However, the Jio website also lists the iPhone X, which has not yet released anywhere in the world, possibly implying that the company plans to launch the tenth anniversary iPhone with similar buyback, bundled data and free calling offers. Jio has listed both 64GB and 256GB versions of the iPhone X on its website, possibly in preperation for the device's November 3 India launch.
The iPhone X is Apple's flagship leader this year and will be launched in India at Rs 89,000 for the 64GB variant and a whopping Rs 1.2 lakh for the 256GB variant. The iPhone X is expected to arrive in India on November 3, but multiple reports have suggested a production delay of the smartphone which could result in limited availability of the device. The iPhone X has not yet been approved by the Federal Communications Commission in the US without which the device cannot be sold in its home market.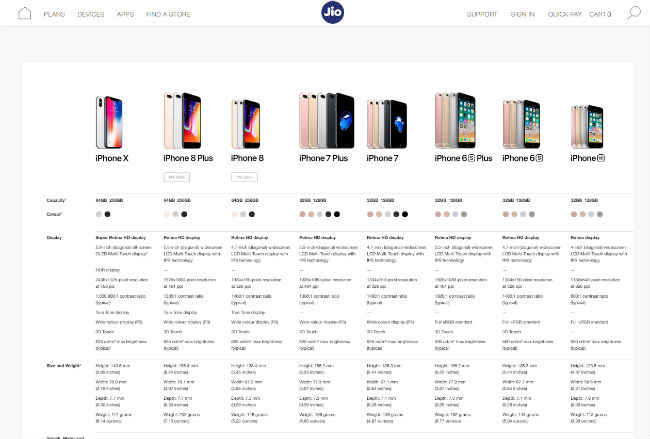 iPhone X listed on Reliance Jio website
Reliance Jio and Apple had reportedly entered into a long term pact to sell iPhones, with the former's VoLTE services bundled, back in 2016. Apple may also be looking at a potential deployment of Apple Pay in Reliance Retail stores, whenever the service come to India. Jio has already detailed its offers for the iPhone 8, iPhone 8 Plus which are incremental updates to last year's iPhone 7 and iPhone 7 Plus.
The iPhone X brings with it a complete design overhaul. It is powered by Apple's new chip called the A11 Bionic, which is also powering the iPhone 8 and 8 Plus. The iPhone X sports the much rumored 5.8-inch OLED display with a pixel density of 458ppi, and Apple is calling it a the Super Retina Display. The display supports HDR10 as well as Dolby Vision. The dual camera system at the back of the iPhone X has been updated and it packs two 12MP cameras at the back. The primary camera of the iPhone X has an f/1.8 aperture and the secondary camera has an f/2.4 aperture. Both cameras of the phone support OIS, while the secondary camera can do 2X optical zoom. The iPhone X also comes with Face ID, which unlocks the device by recognising the user's face. With the iPhone X, Apple has ditched Touch ID on the device completely.