Reliance JioPhone will be available for user beta testing from August 15 and pre-bookings start from August 24. The company plans to make 5 million units available every week starting September.
Reliance Jio has launched the much rumoured 4G feature phone at company's 40th annual general meeting in Mumbai. "JioPhone enables information at the fingertips of young Indians," said Mukesh Ambani while announcing the new intelligent feature phone. He deemed company's JioPhone as "India Ka Smart Phone" (India's smart phone) at the event.
Reliance says the JioPhone is 'Made in India' and is intentionally designed to look like a conventional feature phone. It sports a 2.4-inch QVGA display and houses an intelligent voice assistant that can help in interacting with the device to make calls, use Jio apps, search the web, and more. The handset features an alphanumeric keypad with a 4-way navigation toggle wheel and support for SD card slot. The handset comes bundled with the company's apps like Jio Music, Jio TV and Jio Cinema to name a few and offers additional features like Torchlight and FM Radio.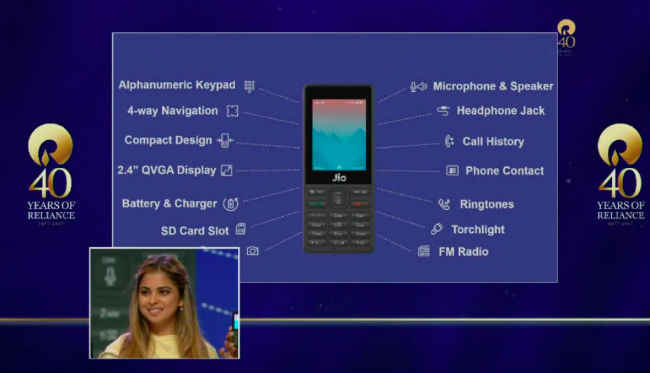 Jio Phone buyers will get unlimited voice calls, data and SMSs starting August 15 at Rs 153 per month as part of Jio Dhana Dhan plan. Jio says the new unlimited Rs 153 Dhan Dhana Dhan plan will only be available to JioPhone buyers, and the company will additionally offer Rs 24 sachet recharge for 2 days with unlimited everything and Rs 54 for a week, again with unlimited voice, data and SMSs. Additionally, JioPhone buyers can also mirror the content from their phone to their large screen LCD or CRT TV with an additional Rs 309 recharge for a month, which will come with a Jio TV cable in tow. Additionally, the JioPhone comes ready to make digital payments. At the RIL AGM it was announced that NFC functionality will be added to the Jio Phone in the next few months, enabling users to pay with UPI, mobile wallets and other banking apps. For safety, the Jio Phone will come with a one-button emergency response. Long-pressing 5 on the Jio Phone will trigger a call to pre-fed emergency contacts, or even the police.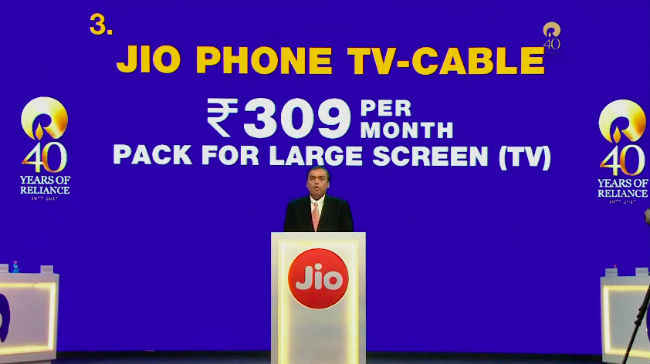 JioPhone will be available at an effective price of Rs 0 and the company plans to collect a fully refundable deposit of Rs 1,500, which will be refunded after 3 years on returning the used JioPhone. Reliance JioPhone will be available for user beta testing from August 15 and pre-bookings start from August 24. The company plans to make 5 million JioPhone available every week and aims to migrate 50 crore feature phone users in the India to the JioPhone. Mukesh Ambani also announced that over 100 million users have subscribed to company's Prime membership and most have recharged with Rs 309 or higher data plans. He added that with Jio subscriber use more than 125 Cr GB data per month and that Reliance aims to cover 99 percent of India's population with 4G coverage in the next 12 months. Jio aims to offer enhanced physical distribution with 10,000 offices and 10 lakh retail outlets, and will also sell services via e-commerce platforms going forward.
Tags:
Reliance JioPhone
reliance jio phone
Reliance Jio 4G feature phone
jiophone price
jiophone launch
jiophone features
jiophone availability
jiophone feature phone launch
mobiles
mukesh ambani
RIL AGM
Jio phone
Jio Phone specs
Jio TV cable