HIGHLIGHTS
Redmi has announced a Redmi K20 Pro Signature edition, which has making charges of Rs 4.8 lakh.

There are some other smartphones that cost way more than the Signature edition of the Redmi K20 Pro.

Here are three other such handsets.
Redmi just announced its new K20 series of smartphones in India. The new line-up consists of the first Redmi flagship device, the K20 Pro, which is powered by the Snapdragon 855 and a mid-range Redmi K20 that runs on the Snapdragon 730 SoC. However, alongside the two models, the company has also introduced a Redmi K20 Pro Signature edition smartphone, which is made of real gold and a diamond studding. As you can see from the image above, the handset's rear panel is made of gold and there's a 'K' shaped diamond studding on the bottom-right corner. Even though the device's making charges are Rs 4.8 lakh, it is not the only crazy expensive smartphone out there. Here, we have listed four other phones that are whoppingly expensive and might give even the Redmi K20 Pro Signature edition a run for its money.
Redmi K20 Pro Signature edition
Details are currently scarce about the Redmi K20 Pro Signature edition. While we know that its rear panel is made of real gold, there's no info on how much gold is used. However, not only gold is used on the device as there's a diamond studded 'K' on the back. The internals of the phone are most likely the same as the standard K20 Pro but this Signature edition costs a whopping Rs 4.8 lakh in making charges. The company is yet to announce the price and availability details of the handset but has said that only 20 units of this edition will be made available.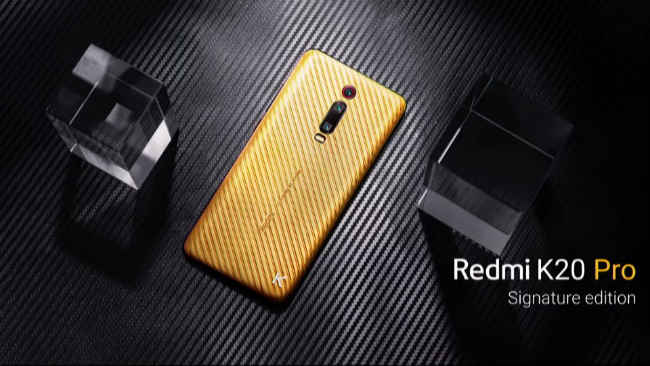 Goldvish Eclipse – Desiring Arcadia – Onyx Alligator
The Eclipse – Desiring Arcadia – Onyx Alligator by Goldvish is a handmade smartphone that is equipped with a Baguette cut white colored diamond. It costs a whopping €92,900 (Rs 71.8 lakh approx) and to justify the price, it uses 320 cut diamonds, stainless steel parts, anodized and brushed space-grade aluminum frame and is covered with black colored alligator leather. However, the specs of the phone are something of a letdown since it features a 5.5-inch display and is powered by an unnamed Snapdragon Quad-core processor. It comes with 64GB storage and a 13MP + 5MP dual rear camera setup. Oh, did we mention that the price of the device is exclusive of tax?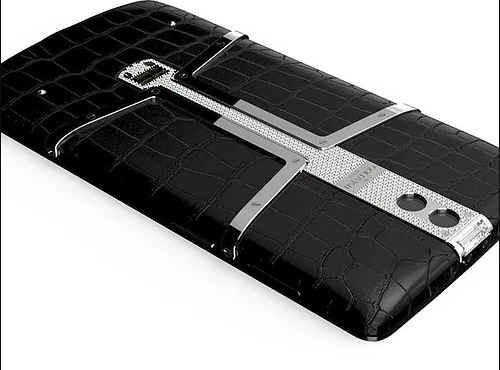 Caviar Samsung Galaxy Note 9 Fine Gold Edition
With the Samsung Galaxy S10 series available and the Note 10 launch set August, one might think that the Galaxy Note 9 might not be such an exciting device anymore. However, Caviar slapped a 1kg block of gold on the handset's rear panel to incite some interest in it and priced it at an astounding RUB3.87 million (Rs 40.6 lakh approx). This pricing is for the 128GB version of the phone and if you want to buy the 256GB version, you need to shell out RUB 3.89 million (Rs 40.8 lakh approx).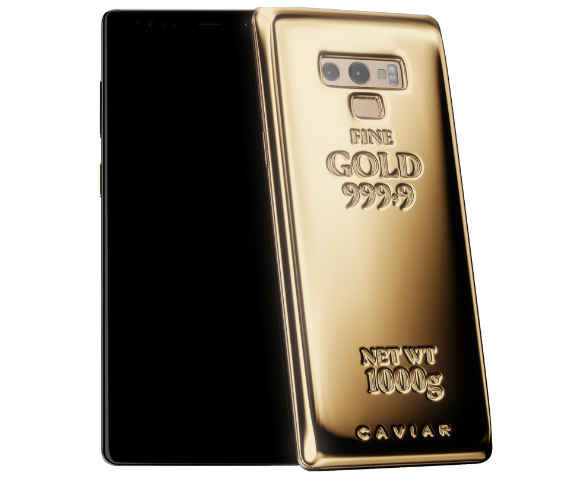 Caviar Samsung Galaxy Fold
Caviar is a well-known Russian luxury smartphone company that makes really expensive phones. The company recently announced a gold laden Game of Thrones version of the Samsung Galaxy Fold, which costs a small fortune. The Samsung Galaxy Fold Game of Thrones version is priced at $8,180 (approx Rs 5.7 lakh). In comparison, the standard version of the phone is priced at $1,980 (approx Rs 1.37 lakh). Caviar's Galaxy Fold features a gold covering that resembles characters and subjects from George R.R Martin's Game of Thrones, A Song of Ice and Fire.