While Samsung is busy preparing for the re-launch of the Galaxy Fold device, Russian luxury smartphone company Caviar has introduced three special versions of the foldable phone, including one inspired by fantasy show Game of Thrones. This version is called the Game of Thrones Edition and will cost a fortune, that is, $8,180 (approx Rs 5.7 lakhs). This is more than four times that of the original price of the handset, which is $1,980 (approx Rs 1.37 lakh).
The (only) difference between Caviar's Galaxy Fold and Samsung's original device is the Game of Thrones skin. Otherwise it has the same mechanism, that is, a 4.6-inch Super AMOLED display on the outside, and a 7.3-inch 'Dynamic AMOLED display' in unfolded state. Under the hood it has 'a 7nm' processor, 12GB of RAM and 512GB of UFS 3.0 storage. It houses the same 4380mAh battery as the original device.
When it comes to design, the Game of Thrones Edition features big houses from the Seven Kingdoms, figures of "Khaleesi's" dragons, towers of the palaces and an engraved map of Westeros. The folding mechanism is equipped with gold elements, and the triple camera system on the back and the smaller screen have gold borders. Reportedly, Caviar has made only seven units of the Galaxy Fold so far, one of which was handed over to Game of Thrones writer George Martin.
Samsung Galaxy Fold(₹ 173999 at Tatacliq)" src="https://static.digit.in/default/0a7f01d0c08c05a76be027a69252e3fb052705e6.jpeg" style="border-style:solid; border-width:1px" />
The other two variants are Carbon Galaxy Fold and Leather Galaxy Fold. Both these devices wear a more business-like appearance. While the Carbon Galaxy Fold has a matte, anthracite (a type of coal) appearance, the Leather Galaxy Fold is made of soft crocodile leather. Both of these phones have a selling price of $5,850 (approx Rs 4 lakh). If you are one of those who can afford any of these pieces of fortune, you'll have to wait until Samsung re-introduces the Galaxy Fold smartphone in the market.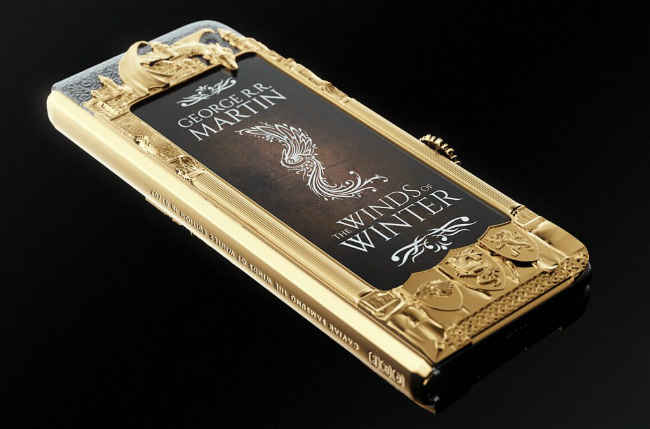 In fact, you may not have to wait too long to get hands on these luxury phones. Last week, Samsung Display Vice President Kim Seong-cheol said that the company had resolved "most" of the issues related to the Galaxy Fold phone, and that the device was ready for launch. "Most of the display problems have been ironed out, and the Galaxy Fold is ready to hit the market," he said at a conference held by industry organisation. The Korean Information Display Society in Seoul. Samsung Display, a subsidiary of Samsung Electronics, is the main supplier of the folding screen for the device.