Samsung recently launched its Galaxy Note 9, which is priced at Rs 67,900 for the 128GB storage variant and Rs 84,900 for the 512GB storage model. It costs $999 in the US. However, for those who are not satisfied with the top-of-the-line specifications and want something more than the Gorilla Glass clad rear panel, luxury smartphone company Caviar's Fine Gold Edition of the smartphone comes laden with 1 kg of pure gold on the back. The smartphone customisation company has priced the 128GB version of the device at RUB3.87 million (Rs 40.6 lakh approx), while the 256GB variant will cost RUB 3.89 million (Rs 40.8 lakh approx).
It seems like there is no change in the smartphone's internals and only the rear outer appearance is wrapped with 1kg of gold. We are pretty sure that the form-factor of the device will be affected due to the mounted gold, however, anyone who purchases it will probably not have any problem with it. Additionally, Caviar also offers the Galaxy Note 9 in alligator leather, golden engraving, composite onyx in fancy shapes and forms, including a golden electroplated logo of the Russian Federation. Although these customisations cost around €3000 (Rs 2,39,293 approx), they can be considered cheaper in comparison with the Fine Gold Edition of the smartphone.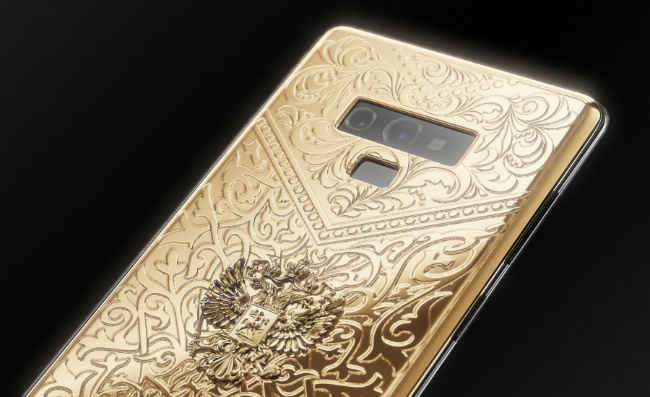 Russia Gold version of the Samsung Galaxy Note 9
In terms of specifications, the Samsung Galaxy Note 9 sports a 6.4-inch Quad HD+ Super AMOLED display and is powered by the Qualcomm Snapdragon 845 10nm 64-bit Octa-core processor. It runs on Android Oreo 8.1 and comes in two variants, one with 6GB RAM/128GB storage and another with 8GB RAM/512GB storage.
For shutterbugs, the smartphone comes equipped with a dual-rear camera setup with Dual OIS. There is a 12MP wide-angle sensor with F1.5/F2.4 variable aperture and a 12MP telephoto lens with an F2.4 aperture. On the front is an 8MP sensor with F1.7 aperture. This year, the upgraded S-Pen stylus supports Bluetooth Low-Energy (BLE) and enables users to use it as a remote to take selfies, group pictures, present slides, pause and play music, and more. The Galaxy Note 9 supports fast wireless charging and is IP68 rated. You can read our spec comparison here and the first impressions here.