Want to modernise your banking loan application?
Build an application that analyses credit risk with #IBMCloud Pak for Data on #RedHat #OpenShift
Click here to know more
Advertisements
Last week, a bunch of journalists were made privy to the upcoming Qualcomm Snapdragon 845's performance. Using a reference phone, Qualcomm allowed reviewers to benchmark the new flagship mobile platform and quite expectedly, the new chipset came out on the top.
The Snapdragon 845 features a new chipset design and it is incredibly fast. The chipset will power almost all flagship devices in 2018 starting with the Samsung Galaxy S9 later this month. Qualcomm had claimed that the new chipset is 25 percent faster than its predecessor, and the benchmark results prove its true.
The Snapdragon 845 features custom "Built on ARM" licensed cores, however, Qualcomm has not overhauled the architecture from last year's Snapdragon 835. The Snapdragon 845 features eight Kryo 385 cores. These are custom cores but XDA Developers reported it consists of four Cortex A75 performance and four Cortex A55 efficiency cores. These new cores have been manufactured using Samsung's 2nd-generation 10nm LPP FinFET process.
Benchmark Results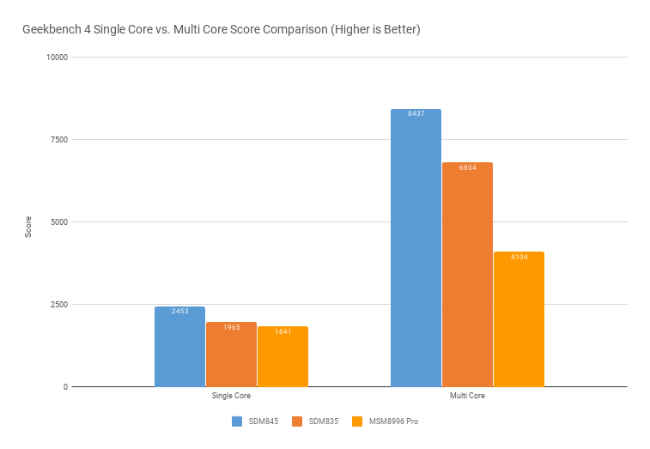 Credit: XDA Developers
These are Snapdragon 845's benchmark results on Geekbench 4 for assessing CPU performance. XDA reports singe-core and multi-core performance increased by 25 percent and 24 percent, respectively, which is the 25-30 percent performance boost Qualcomm claimed about the Snapdragon 845.
However, the Geekbench scores for the SD845 doesn't come anywhere close to Apple's A11 Bionic chip used in the iPhone X.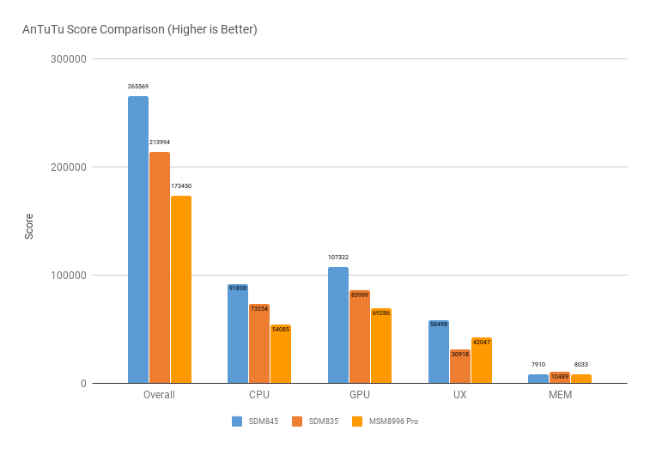 Credit: XDA Developers
AnTuTu, which is a popular testing app, saw an expected boost of around 25 percent in CPU and GPU performance. The reference phone running the new chipset scored significantly higher than the OnePlus 5.
Do benchmarks mean anything?
There are other benchmarks as well, but here's the thing. These tests don't take into account the variations in how you use the device or even every feature that makes a difference in the way you use the device. Moreover, most OEMs tweak their devices to run optimally during benchmark tests. Lastly, having a higher benchmark doesn't necessarily mean the device will offer a better experience over another with lower scores.
It's expected that the Snapdragon 845 will perform much better on benchmark tests than its predecessor, but only time will tell just how better the chipset really will be, in terms of real-world performance.