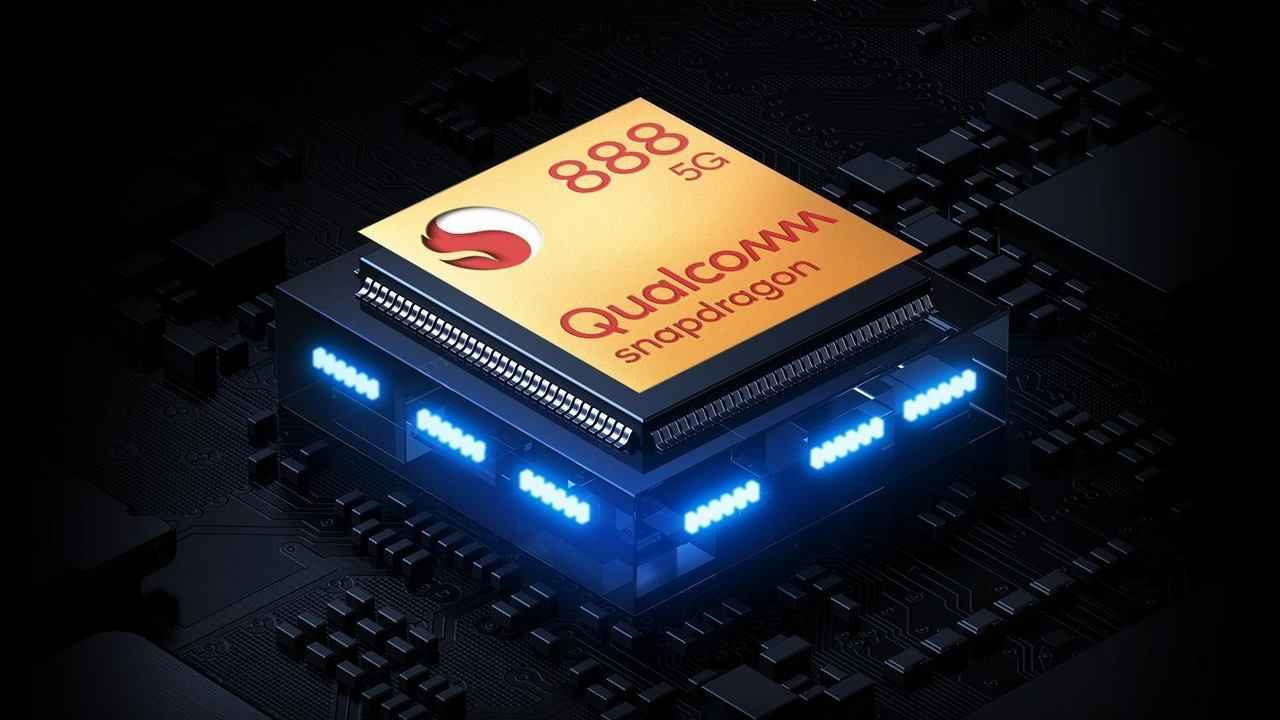 HIGHLIGHTS
Qualcomm is manufacturing a new Snapdragon 888 SoC variant.

This new chip is said to come with an optional 5G modem.

The optional 5G modem is expected to make way for cheaper flagship phones.
Qualcomm has already launched two flagship chipsets this year i.e. the Qualcomm Snapdragon 888 and the Snapdragon 870 SoC. And if rumours are something to go by, then it looks like we'll be getting another flagship chipset from the house of Qualcomm this year as they seem to be set on giving more options to OEMs for making a variety of flagship phones.
According to a new tweet from a reliable source, it looks like Qualcomm is working on a new model of the Snapdragon 888. It is said to be the "lower-end derivative of the Snapdragon 888" that lacks an integrated 5G modem. This means the OEMs using this particular chipset will have an option to launch 4G LTE variants of the flagship phones.
Qualcomm has a lower end derivate of the Snapdragon 888 (SM8350) in the works. SM8325 is the model number and there seems to be NO integrated 5G modem on this one. #CheapFlagshipPhones

— Roland Quandt (@rquandt) March 8, 2021
This new chipset is said to carry the model number "SM8325" and we expect it to sit between the Snapdragon 888 and the Snapdragon 870. The Snapdragon 870, in case you don't know, is pretty much an overclocked Qualcomm Snapdragon 865 from last year.
Qualcomm could launch Snapdragon 888 SoC variant
Between these three chipsets, we can expect to see a ton of flagship phones this year that includes everything between the affordable models to premium high-end ones. The new chipset, if it comes out soon, will also enable flagship phones to launch at a lower price in countries that may not have a strong 5G presence.
We expect OEMs to put it to good use and bring some great flagship phones in countries like India where the consumers won't necessarily have to pay a premium for a feature they can't use for the foreseeable future. But it goes without saying that the enthusiasts and early adopters can choose to go with the premium flagship chipsets to reap the benefits of 5G as soon as it comes out.
In addition to these chipsets for the flagship phones, Qualcomm is also said to be working on the Snapdragon 775 SoC which was spotted recently. This chipset could be the successor to last year's popular Qualcomm Snapdragon 765, which, as history suggests, is at the heart of some of the best affordable Android phones.