On the first day of its annual Inno day event, Oppo introduced its first imaging NPU, MariSilicon X, which will help speed up complex computational photography on Oppo phones. The 6nm process-based chip will debut on the Find X4 series flagships in Q1, 2022.
Oppo claims that the new chip will help the company explore new software possibilities for enhancing camera performance. "Our new cutting-edge imaging NPU [neural processing unit] is the biggest leap we've taken so far, which brings more power to mobile imaging systems and will create an extraordinary experience for our users," said Oppo Senior Director Jiang Bo while introducing the new chip.
Also Check - PUBG: New State Crosses The 1 Crore Download Mark On The Google Play Store
Oppo MariSilicon X Features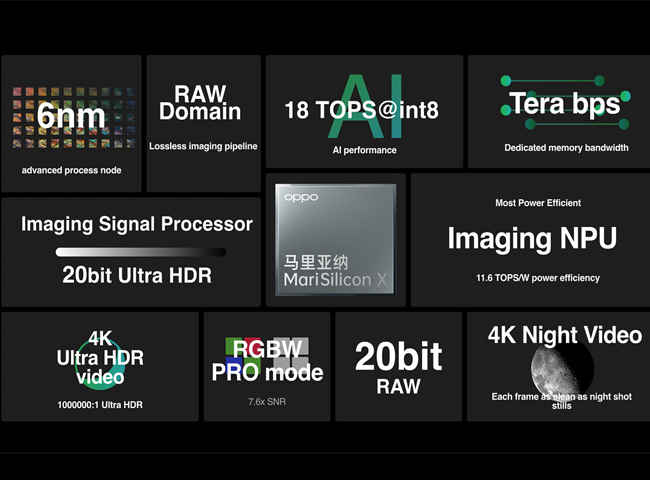 Looks like 2022 will mark a significant leap in mobile photography. The recently introduced next-gen chips like the Dimensity 9000 and Qualcomm Snapdragon 8 Gen 1 showcased remarkable improvements in image processing capabilities, including a shift from 14-bit to 18-bit ISP pipeline.
Oppo MariSilicon X pushes it a bit further to 20-bit and should allow for a few more stops of dynamic range and should also help improve HDR performance. The chip will be able to handle 18 trillion operations per second with a dedicated memory bandwidth of up to 8.5GB/s.
It will enable 20-bit HDR fusion in the RAW domain, support 4K HDR Night Video and real-time 4K AI processing and also help improve power efficiency. Another highlight is RGBW Pro Mode that combines RGB and White signals which according to the company will result in significant improvements in signal-to-noise ratio and better texture in photos and videos.
On paper, the MariSilicon X seems a significant improvement over the ISP used on 2021 chips like the Snapdragon 888. It remains to be seen how it fairs against the revamped Snapdragon Sight in the Snapdragon 8 Gen 1. Either way, the MariSilicon X marks Oppo's beginning in the semiconductor race. The brand plans to persevere further to gain semiconductor self-reliance and eventually will also try developing its own applications processors.
At Inno Day event 2022, Oppo will also launch Find N, its first foldable screen phone.