MediaTek has been primarily focusing on the mid-range and lower premium SoCs for phones for the last few years, but with the new Dimensity 9000, the company is very ambitiously positioning itself on the cutting edge. The new SoC has impressive specifications and is truly capable of competing with Qualcomm's latest flagship, the Snapdragon 8 Gen 1, which will presumably be the chipset we see in most of the flagship phones of 2022.
While the actual phones employing these chips are yet to go official, the specifications on paper should give you a fair idea of what to expect from flagship performance this year.
So, how do the two compare? Let's talk details.
MediaTek Dimensity 9000 vs Snapdragon 8 Gen 1: Specifications

MediaTek Dimensity 9000 vs Snapdragon 8 Gen 1: CPU Cores
Both the MediaTek Dimensity 9000 and Qualcomm Snapdragon 8 Gen 1 have the new Armv9 cores and follow the same 1 + 3 + 4 core configuration.
The Cortex-X2 is the prime core on both chips, each including 1MB of private L2 cache. Dimensity 9000 however has a slight frequency advantage. MediaTek claims a 35% performance boost and 37% increase in efficiency when compared to Snapdragon 888 (without officially naming the chip, of course). Qualcomm on the other hand claims 20% faster performance or 30% power savings for the prime core.
Big cores are again the same on both phones (Cortex-A710) and are backed by a 512KB L2 cache. Once again, MediaTek has a clock-frequency advantage (2.85GHz vs 2.5GHz).
The little cores on both chipsets are Cortex-A510 cores clocked at the same 1.8GHz frequency, but the two vendors follow very different implementations
Qualcomm adopts ARMs 'merged-core design' for Cortex-A510. In this approach, two cores are paired together on a 'Complex' and share resources like L2 cache and FP/SIMD back-end. Qualcomm says this approach is apt for light workloads expected of these core and will result in better power efficiency.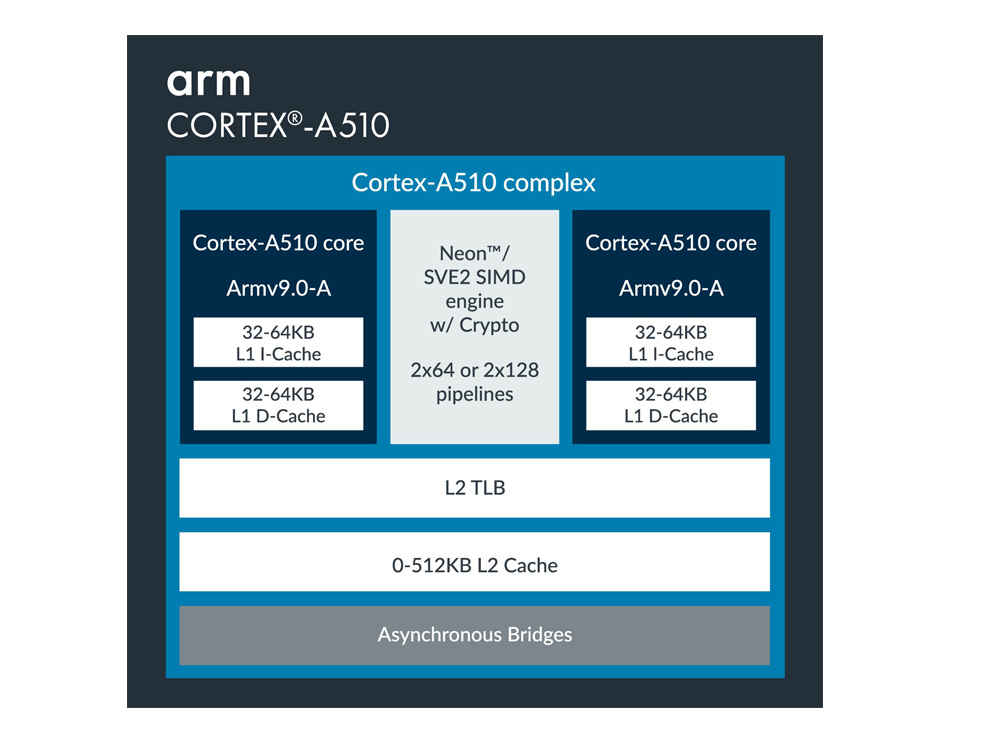 MediaTek, on the other hand, uses just 1 Cortex-A510 core in each Complex, each with a separate 256KB cache in order to max out performance (hopefully without any efficiency penalty).
So, overall, the Dimensity 9000 tries to maximize the core performance and will likely have a lead in terms of raw CPU performance benchmarks as compared to the Snapdragon 8 Gen 1 in 2022. As we will discuss in a bit, CPU performance on Dimensity 9000 could also benefit from a larger shared Cache and faster LPDDR5X RAM support.
MediaTek Dimensity 9000 vs Snapdragon 8: Process node
This is the first time that MediaTek is using TSMC's latest process node (which was usually reserved for Apple or HiSilicon application processors in the past). While it's hard to say how this exactly compares to the new Samsung 4nm process node used for Qualcomm Snapdragon 8 Gen 1 but going by the efficiency claims made by TSMC and Samsung, MediaTek will likely have a process node and consequently power efficiency advantage this year.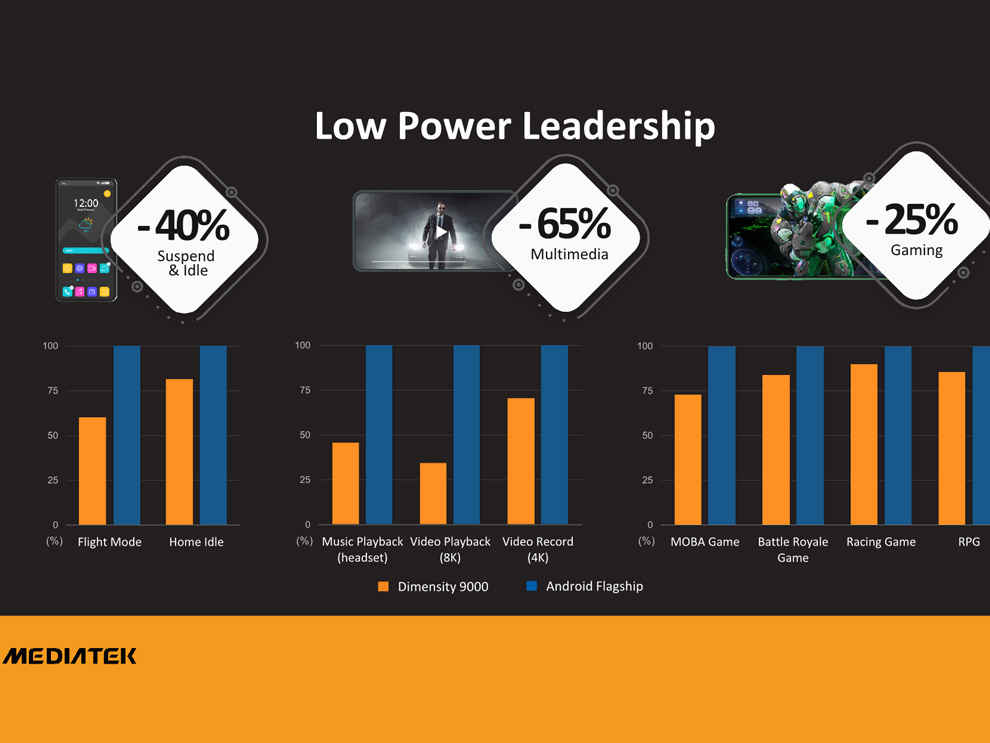 In fact, MediaTek posts remarkable stats for the power efficiency of the new SoC. It claims significant improvements when it comes to idle power and for power consumption in multimedia and gaming.
MediaTek Dimensity 9000 vs Snapdragon 8 Gen 1: Memory Subsystem
Having squeezed the gains from transitioning to small process nodes, manufacturers are now employing higher cache memories to attain better performance and power efficiency. This is a trend that should be more prevalent as we move forward and apps and workloads that take advantage of these larger system caches will see better performance gains.
MediaTek is significantly more aggressive in this regard this time around. The Core-X2 prime core gets 1 MB L2 Cache, the big Cortex-A710 cores have 512 KB private L2 cache, and the Little Cortex-A510 cores get private 256 KB cache each. There is another 8MB shared L3 cache for the core clusters.
MediaTek also adds a large 6 MB system level cache (SLC) that can be accessed by other SoC components other than CPU cores and thus reduce reliance on RAM.
The Snapdragon 8 Gen 1 has the same L2 caches for the Core-X2 and Cortex-A710 primary cores as the Dimensity 9000. Qualcomm, however, doesn't detail the shared cache among two Cortex-A510 pairs of efficiency cores. The shared L3 cache between core clusters is 6MB. Qualcomm further adds 4MB of SLC, but unlike on the Dimensity 9000, Qualcomm doesn't let CPU cores access this system-level cache in order to reduce DRAM latency.
So taking into account the shared cache ( L3 and SLC), the cores on Dimensity 9000 will have access to significantly more cache memory than on the Qualcomm Snapdragon 8 Gen 1. Even factoring in the increased latency, this could result in a performance advantage.
Dimensity 9000 is also the first to integrate support for LPDDR5x RAM, which on the Dimensity 9000 phones is advertised to be up to 17% faster than conventional LPDDR5 RAM (7500 Mbps vs 6400Mbps).
MediaTek Dimensity 9000 vs Snapdragon 8 Gen 1: GPU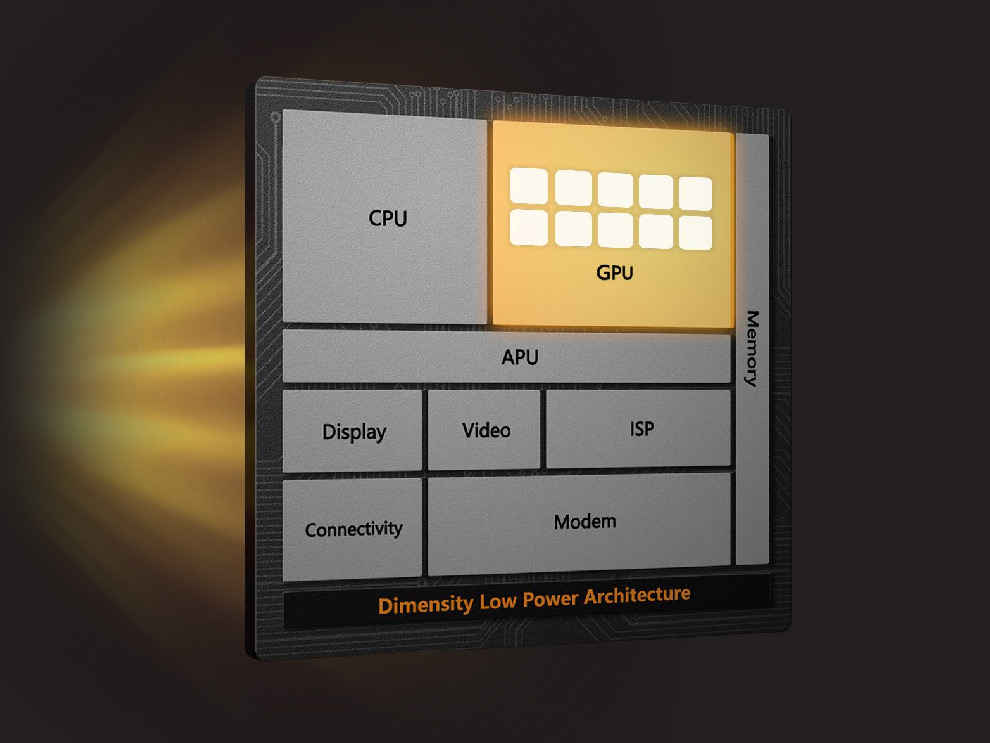 This year, Qualcomm has focused on architectural changes for improving GPU performance for practical workloads rather than chasing Peak power and Performance figures which are relevant to achieving better benchmark scores. With the new Adreno GPU, Qualcomm still claims 30% faster peak performance, or 25% power reduction at the same performance as the Snapdragon 888.
MediaTek opts for Mali G710 GPU and claims performance improvements of 35% and 60% improvement in power efficiency compared to current Android flagships (or Snapdragon 888).
Also Check: Every phone confirmed to launch with the Qualcomm Snapdragon 8 Gen1 chip
MediaTek Dimensity 9000 vs Snapdragon 8 Gen 1: ISP, DSP and Modem
Both of these chips bring in some remarkable improvements in Image Signal Processors that should help boost the camera performance of 2022 flagships. Snapdragon Sight on the Snapdragon 8 and Imagiq (Gen 7) on the Dimensity 9000 can both support a bit depth of 18-bit, which should result in improved HDR performance.
Snapdragon Sight integrates popular computational photography techniques on dedicated ISP blocks, which should help improve camera performance, especially in low-light scenarios. Qualcomm also reveals that ISP will handle ML and AI workloads itself without offloading these to the DSP. It also supports 8K HDR video recording.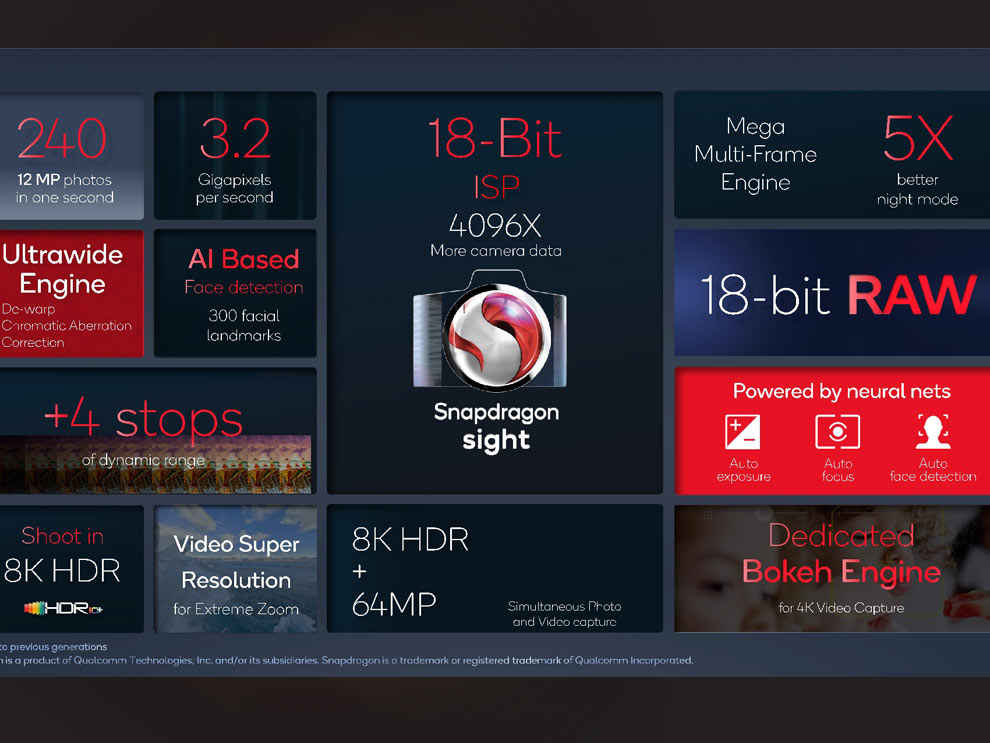 Dimensity 9000 also claims massive generational improvements and also bakes in 8K AV1 decoding. The chip can support capture from three 32MP sensors simultaneously and also a single 320MP camera sensor.
Both vendors don't reveal many comparable stats for AI performance, but it looks like we will see healthy generational improvements with significantly better power efficiency.
MediaTek Dimensity 9000 has a modem compatible with 3GPP release 16. With 3CC carrier aggregation in of Sub-6 bandwidth, the modem can achieve download speeds of up to 7Gbps. mmWave 5G isn't supported and that should be an issue for the US market.
Snapdragon 8 Gen 1 integrates the X65 modem that is also compatible with 3GPP release 16. The modem supports 300MHz career aggregation in Sub-6 bandwidth and up to 1000MHz mmWavae bandwidth, resulting in up to 10Gbps theoretical maximum speeds.
MediaTek Dimensity 9000 vs Snapdragon 8: Which one is better?
Needless to say, both of these chipsets are thoroughly impressive on paper. In this generation we see a revamp in CPU architecture and notable improvements in power efficiency.
The Dimensity 9000 is by far the most ambitious chipset from MediaTek in years. MediaTek uses TSMC's latest process node and tries to maximize all aspects of performance rather zealously in order to clearly catch up or surpass the incumbent competition.
Qualcomm isn't being as aggressive as Mediatek but the Snapdragon 8 still exceeds expectations and focuses on making practical usage better. It could usher in massive camera improvements and the new Adreno GPU is equipped to enhance the sustained gaming performance.
It will now be important for MediaTek to score design wins. Qualcomm Snapdragon 8 Gen 1 is likely to be the first choice for most flagships, but MediaTek Dimensity 9000 could bring in some really aggressive flagship killers in 2022.
Also Read: Razer's Qualcomm-Powered Handheld Console Has Been Leaked