OnePlus is expected to soon launch its next flagship smartphone, the OnePlus 6T. Reports suggest that the handset might feature a waterdrop notch display along with an in-display fingerprint sensor. However, there has been no confirmation whether the smartphone even exists or not. However, CNET says that the company has not only shared a screenshot of the upcoming smartphone with CNET but confirmed the presence of an in-display fingerprint sensor as well. If this turns out to be true, the handset might be more than just an incremental update this time. The company is apparently calling the new feature Screen Unlock and it is said to come alongside the existing Face Unlock option.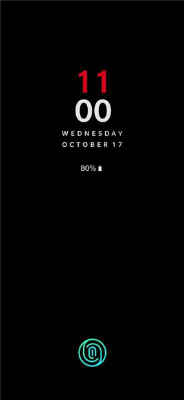 "We unlock our phones multiple times a day, and Screen Unlock reduces the number of steps to complete the action," OnePlus stated in an email to CNET. "By adding this feature as an addition to other display unlocking options such as Face Unlock, users will have options to unlock the display in a way that is most efficient for them." Other than the new feature, nothing about the device is confirmed yet, not even its name. Additionally, the date on the screenshot shared by CNET, suggests that the company could announce additional information about the smartphone on October 17 at 11 AM.
The company also recently posted an image, with an event planned for January 15 and it's out of the norm as OnePlus usually does not release any smartphones around that time. There is also a possibility that OnePlus is planning to unveil a new accessory or a new colour variant of the OnePlus 6.
The smartphone was recently leaked in images on Weibo. The image shows the smartphone in a red colour with a waterdrop notch display and a triple rear-camera setup. The fingerprint sensor is nowhere to be seen in the image and now CNET says that the company has confirmed the in-display fingerprint sensor on the phone. The camera setup is vertically aligned, same as the OnePlus 6, but this isn't the first time that we have seen a triple camera setup on a smartphone. The Huawei P20 Pro was the first smartphone to sport a triple camera setup.