A study conducted by Tom's Guide has found that OnePlus 5T is the fastest charging smartphone when compared to other latest flagship smartphones of today. Smartphones like the the OnePlus 5T, LG V30, Apple iPhone X(₹ 64789 at amazon), Apple iPhone 8, Apple iPhone 8 Plus(₹ 68999 at amazon), Google Pixel 2, and the Samsung Galaxy Note 8 were tested to find out how much time it takes for fully charging the devices.
The test was carried out using the original charging accessories which are included in-the-box with the aforementioned smartphones. In case of the iPhone 8, iPhone 8 Plus and iPhone X, the tests were conducted using their respective original chargers and also with the fast-charging accessories which are sold separately by Apple.
The test commenced by checking the battery percentage of each device after charging them for 30 minutes with their screens turned off. The OnePlus 5T attained 59 percent of battery charge in half an hour whereas the LG V30 was the runner-up with 53 percent charge.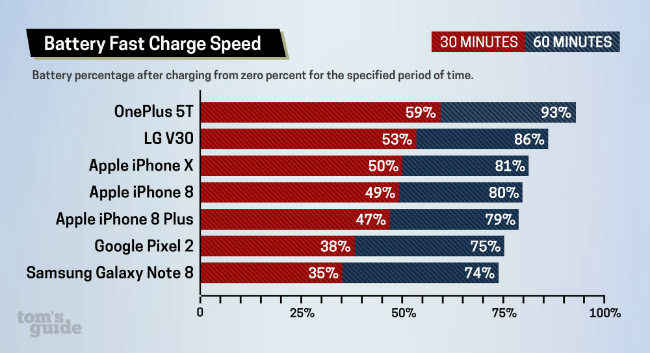 The iPhone X, iPhone 8, and the iPhone 8 Plus came in at the third, fourth and fifth place respectively, gaing 50 percent, 49 percent, and 47 percent battery life. The iPhone's were charged using the fast-charging gear, however, the study says that the phones charged slower even with their included adapters. The Google Pixel 2 and the Samsung Galaxy Note 8 finished last with 38 and 35 battery percentage.

The smartphones were then left to charge for another 30 minutes. Similar to the first test results, the OnePlus 5T led the pack with 93 percent of battery charge, followed by the LG V30 at 86 percent. The iPhone X, iPhone 8 and the iPhone 8 Plus again came in third, fourth and fifth with 81 percent, 80 percent, and 79 percent respectively.