Nokia has launched the Asha 310 mobile phone, with dual-SIM capabilities. This is essentially the successor to the Asha 308 and 309. The Asha 310 has a 3-inch (400 x 240 pixel) capacitive touchscreen, but we are supposed to believe that the cherry on the cake is the dual-SIM capability along with WiFi. Nokia calls this "a mobile milestone", but this is essentially "their mobile milestone", because this is the first phone with this feature set put together by Nokia. Interesting to note, there is no 3G!
Nokia calls this the dual-SIM on steroids. Nokia's 'Easy Swap' dual-SIM technology is designed to make swapping between different SIM cards as easy as possible, in order to get better tariffs or to switch between SIMs for personal or work use. Your main SIM card sits behind the battery, as normal. But the slot for the second SIM on the side of the phone allows you to switch the second SIM easily, without needing to switch off the phone.
The other specs include 20MB built-in storage, with a memory card slot letting you expand that up to 32GB. There is a 2MB camera and Bluetooth for sharing data. The phone comes preloaded with Facebook and Twitter apps. In a special tie-up, EA is offering 40 free game downloads on the device.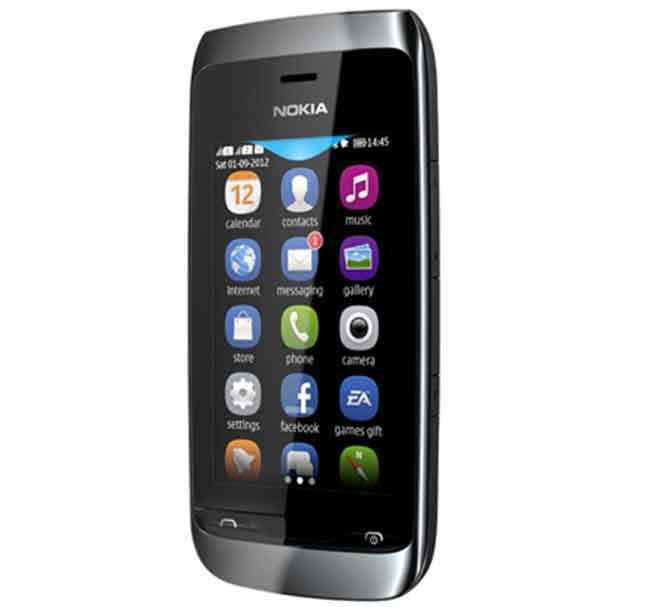 "The Nokia Asha 310 is the first-ever Nokia smartphone to offer both Easy Swap Dual SIM and Wi-Fi in the same device. It gives consumers the best of both worlds, allowing them to separate work and play, or speak with friends on other mobile networks more affordably," said Timo Toikkanen, executive vice president, Mobile Phones, Nokia. "The addition of Wi-Fi support gives users the freedom to enjoy much more of the Internet compared to competitive devices at this price point."
The Nokia Asha 310 will go on sale in India sometime in Q1, 2013, for a price of around US$ 102 (or roughly Rs. 5500). At the same time, the Asha 310 will also hit stores in the rest of Asia, the Middle East, Africa and Brazil.
Source: Nokia Conversations blog