OnePlus TV 32Y1 - Smarter TV
Android TV with superior craftsmanship and elegant design - Buy Now
Click here to know more
Advertisements
Prices of the LG Nexus 5X and the Huawei Nexus 6P(₹ 35000 at flipkart) have been confirmed in India. As per the listing on Google Store, the Nexus 6P will start selling from Rs. 39,999, and the Nexus 5X from Rs. 31,900. However, these pricing of the newly-announced Nexus smartphones are not visible straight away on the Google store, and it shows the 'Join Waitlist' option, instead of the price. But, if you click on any of the chargers and cables (made for both the devices) and scroll down that page, you will be able to see the prices for both the smartphones.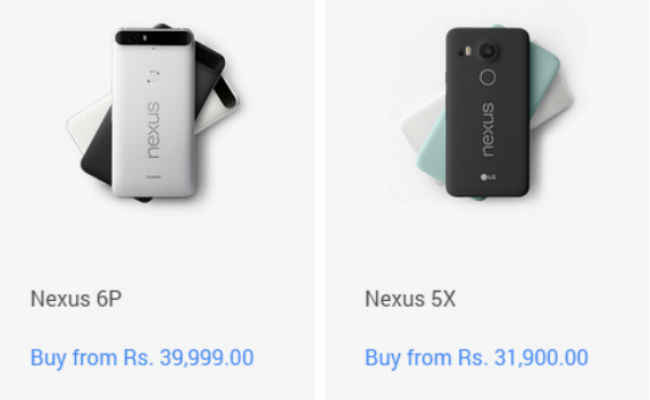 Google launched both the Nexus 5X and 6P in an event held yesterday, along with Android Marshmallow v6.0, Chromecast devices, and the Pixel C tablet. The LG Nexus 5X sports a 5.2-inch Full HD display with pixel density of 423ppi and Corning Gorilla Glass 3. The phone runs on Qualcomm Snapdragon 808 SoC along with 2GB of RAM. It has a 12.3MP rear shooter with laser-assisted autofocus, and a 5MP front shooter. The phone offers 16GB/32GB of internal storage, and is powered by a 2700mAh battery. The phone also has a single, front-facing speaker, USB Type-C port, and fingerprint scanner.
The Huawei Nexus 6P comes with a 5.7-inch WQHD AMOLED display with 518ppi pixel density and Corning Gorilla Glass 4 screen protection. It runs on an octa-core Qualcomm Snapdragon 810 v2.1 SoC clocked at 2GHz, coupled with 3GB of LPDDR4 RAM. The smartphone has a 12.3MP rear camera, and an 8MP front shooter. It is available in 32GB, 64GB and 128GB storage variants. The whole package is powered by a 3450mAh battery. It also features dual front-firing speakers, a USB Type C-port, and the fingerprint scanner. As for availability, the Nexus 5X is up for pre-orders in various countries including USA, UK, Korea, Japan, Canada and Ireland, with expansion to more than 40 countries from October 19. The Nexus 6P is also available in the earlier-mentioned countries, and is expected to be available in other regions by the end of the year.
Buy Nexus 6P at Rs.39999 on Flipkart