Images leaked on the XDA Forums show that the Samsung Galaxy S6 may have an uninspiring design after all.
Another day and yet another leak of the upcoming Samsung Galaxy S6 has surfaced. New images leaked on the XDA Developers Forum claim to show the upcoming Samsung Galaxy S6 and S6 Edge placed next to each other. Why do these images seem legitimate? Well, one because Samsung has been rumoured to be working on an Edge version of the S6. Secondly, the devices in the image seem to showcase Samsung's no risk design philosophy yet again.
If the new leak turn out to be the real thing, then the design is quite disappointing, especially after all the reports about Samsung going back to the drawing board for its newest flagship. The images seem to show regular uninspiring Samsung designs, except with the dual-edge on the S6 Edge.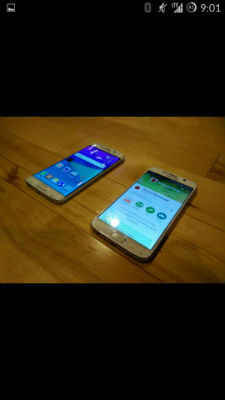 Nevertheless, we'll know very soon. Samsung is going to launch its latest flagship smartphone on March 1 in Barcelona, at MWC 2015. The company has been posting teaser videos of the S6 for a while now and the device is expected to be one of the biggest launches for the year.
Source: XDA Forums