When Motorola launched its Moto G4 Plus smartphone, it promised that the device would receive the Android N and Android O updates. However, when the company recently revealed a list of its smartphones in line to get the Android O update, the Moto G4 Plus was missing from it. It should be noted that the device isn't 18 months old yet. however, that's not all. Android Police (via a Reddit user) noticed that the company has silently removed all references to its Moto G4 Plus receiving the Oreo update.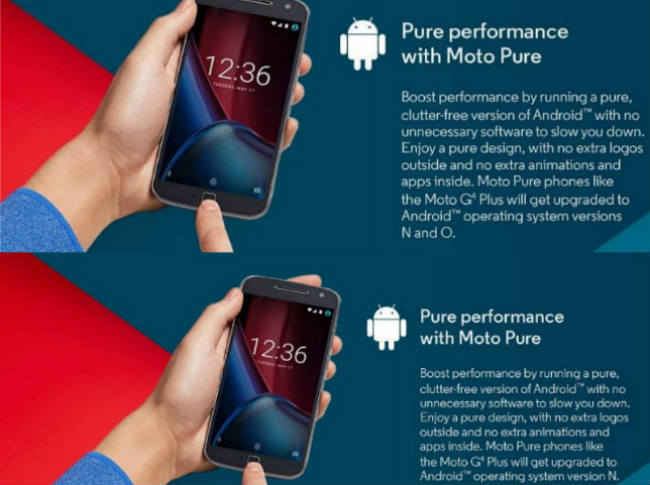 After noticing the oddity, a Reddit user posted a thread with the above images. The product listing for Moto G4 Plus on the company's website earlier promised, "Moto Pure phones like the Moto G4 Plus will get upgraded to Android operating system versions N and O." Now, the description only mentions Android N. Also, an old video of the Moto G4 Plus listing on Amazon confirms that the company did promise the Android O update for the smartphone. Now though, the landing page for the Moto G4 Plus on Amazon has no mention of the update anymore. The Redditor notes, "What about consumer protection laws? Isn't Motorola selling a product by deceiving customers using false information?"
Similarly, the update assurance has been noticed in a Spanish brochure of the Moto G4 Plus as well. When Motorola released the list of their smartphones receiving the Oreo update, they tweeted via their official account confirming the update for its Moto G4 Plus, but the tweet was deleted shortly after.
Motorola has confirmed the Android Oreo update for the Moto Z, Moto Z Droid, Moto Z Force Droid, Moto Z Play, Moto Z Play Droid, Moto Z2 Play, Moto Z2 Force Edition, Moto X4, Moto G5, Moto G5 Plus, Moto G5S, and Moto G5S Plus.
Update: After this story, Motorola connected with us and has issued a statement about the same. The company said, "It's been brought to our attention that there were some errors in our marketing materials around Android O upgrades for Moto G4 Plus. This was an oversight on our part and we apologize for this miscommunication. It's our general practice for the Moto G family to get one major OS upgrade per device, but it's important to us we keep our promises, so in addition to the N upgrade it has already received, we will be upgrading Moto G4 Plus to Android O. Because this is an unplanned upgrade, it will take some time to fit it into our upgrade schedule. Watch our software upgrade page for more information."
According to Motorola, the Moto G4 Plus was only supposed to receive the Android Nougat update and the original reference for updating Oreo update was an error on the company's part. However, Motorola has now promised to bring the Android Oreo update to the device, but said it could take a while, since the update wasn't originally planned.