One of the biggest issues plaguing Android for a long, long time now is the adoption rate of its updates. While the Google-owned Android operating system remains by far the most popular mobile OS in use in the world right now, the large base of users, coupled with the vast number of manufacturers using it, has made it difficult for Google to maintain urgency of OS updates uniformly across the world. And, while Google's latest report does show a rise in the number of devices now running on Android Marshmallow, it still makes for less than 20 percent of Android entire user base.
To be precise, Android Marshmallow now runs on 18.7 percent of all Android devices, up from 15.2 percent last month. While this does show a reasonably steady growth and a number of OEMs have been rolling out Android Marshmallow to devices across numerous price points, the adoption rate is still quite behind iOS - Apple's mobile operating system. Admittedly, with much fewer devices at hand, it has always been less complicated for Apple to push timely updates to all compatible devices. Alongside, the demographics of iOS users are considerably different from that of Android users, which makes user adoption of new updates automatically easier.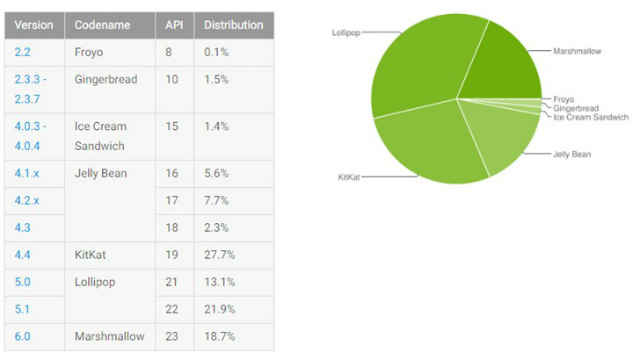 It has been a year since Android Marshmallow was introduced, and Android Nougat is now upon us. Unfortunately, though, while iOS 10 rolled out to the public last night and is presently being downloaded by iPhone and iPad users (and them iPod users, too), Android N will certainly take longer to reach your Android device, unless you're using Nexus or Android One smartphones. It is this factor for which even after one year of Android Marshmallow, Android Lollipop has the highest share of Android users at 35 percent, followed by Android KitKat at 27.7 percent, and Jellybean at 15.6 percent. 1.5 percent of Android users still happen to be on Ice Cream Sandwich, and a similar figure of users are on Gingerbread, too.
The slow rate of update adoption has affected the Android ecosystem in terms of security and stability. The large section of users still on old Android versions miss out on crucial security updates patched by Google, which leads to notably compromised mobile security for users. The process of comprehensively pushing updates like Apple is certainly way more difficult for Google, but with Android Nougat already here, the adoption rate of Google's latest iteration of its mobile OS will take another hit.
Meanwhile, there are still users who use Android Froyo.