Microsoft Research may be working on a smartphone flip cover with a secondary low power display that could be used as a secondary screen
Microsoft may be working on a smartphone flip cover with a low-powered secondary display, according to report by a WM Power User. The cover will most probably use e-ink technology and its possible that the secondary screen could be used as a full QWERTY keyboard, display detailed notifications, compose instant emails, checking calendars, etc. Furthermore, Microsoft Research may be in talks with the Lumia division for using this technology in future Lumia devices.
It's possible that Microsoft may use this technology in the Surface Phone that the company is rumoured to be working on. In an interview with Windows Weekly, Chris Caposella, the Chief Marketing Officer at Microsoft confirmed that the company was working on a "breakthrough" phone. While he didn't specify that the device was the Surface Phone, he did say that the device would be the spiritual equivalent of the Surface. One of the interesting aspects of the Surface lineup of tablets is their cover, which doubles as a keyboard. The idea of using the cover of the tablet as a keyboard can also be seen in Google's Pixel C tablet and the Apple iPad Pro.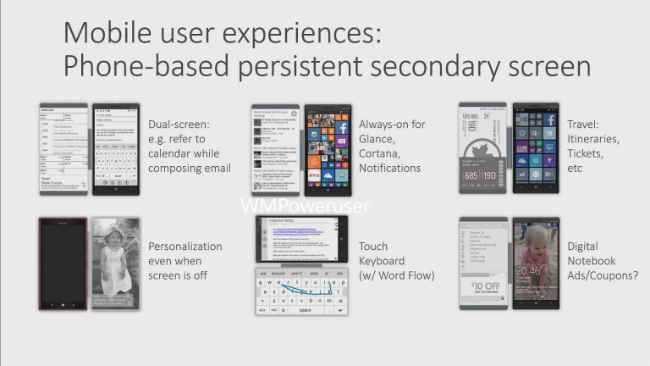 The point of the having a secondary low-power display is to improve the battery of the device. The secondary display would still provide basic information, but would not require much battery power to operate. The YotaPhone was one of the first phones to come with two displays. However, the device embedded the secondary e-ink display into the back of the device instead of a separate flip cover. The device's successor, the YotaPhone 2 continued using the same concept with some changes in specifications and design. Pebble's smartwatches also come with e-ink displays in order to improve their battery life.
Source: WM Power User