The Micromax Yu Yureka smartphone is all set to go up for registration from 2PM onwards today on Amazon India. The device has been launched under the new Yu brand, owned by Micromax. It runs on the CyanogenMod 11 OS and has an octa-core 64-bit Snapdraon 615 processor. It is priced at Rs. 8,999 and will be available for sale from January 13, 2015 onwards.
Update: While it went live for a while, it has gone offline, with Amazon putting a message that says, "Thank you for the overwhelming response. We are closed for registrations right now. Watch this space for more." A tweet was also sent out from the Yu Twitter handle, notifying users of the same.
The Yu Yureka has come under a lot of scrutiny, owing to the controversy around Cyanogen Inc and OnePlus. The OnePlus One, which was recently launched in the country, has been banned following a suit filed by Micromax. The homegrown smartphone maker acquired the exclusive rights to sell CyanogenMod-powered smartphones in India.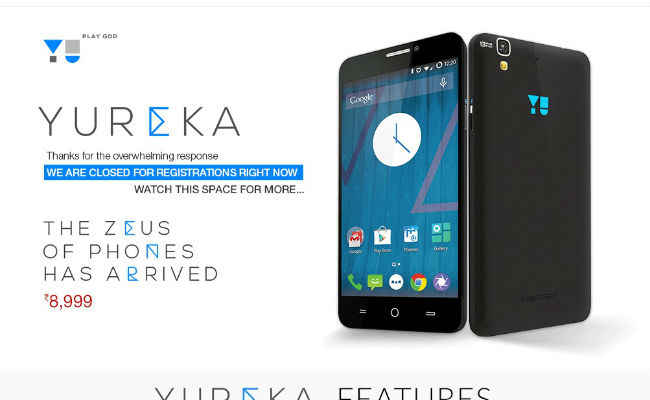 Check-out Micromax Yu Yureka photo gallery and first impressions
Apart from the processor and OS, the Yu Yureka also boasts a 13MP rear camera, 5MP front camera and 5.5 inch HD display. The device has 16 GB of internal storage, which is expandable up to 32GB. It runs on a 2,500 mAh battery and has 2GB of RAM.
You can go directly to the registration page from here.