LG Rollable phone has been showcased during the company's press conference in the ongoing CES 2021
The LG Rollable phone has been showcased during the company's press conference in the ongoing CES (Consumer Electronics Show) 2021. The fact that LG has been working on a rollable phone is pretty much known so much so that Oppo jumped on the bandwagon by unveiling its Oppo X 2021 rollable smartphone back in November 2020. However, LG now wants to get the ball rolling and has teased its first rollable phone putting all rumours to rest.
The digital LG Press conference began with a person holding the LG Rollable in their hands where Jin-hong Kim (JK), SVP, Head of Global Marketing Center at LG kicked off the presentation as the phone expands vertically. It looks rather ingenious and sets a perfect use case for this new form factor.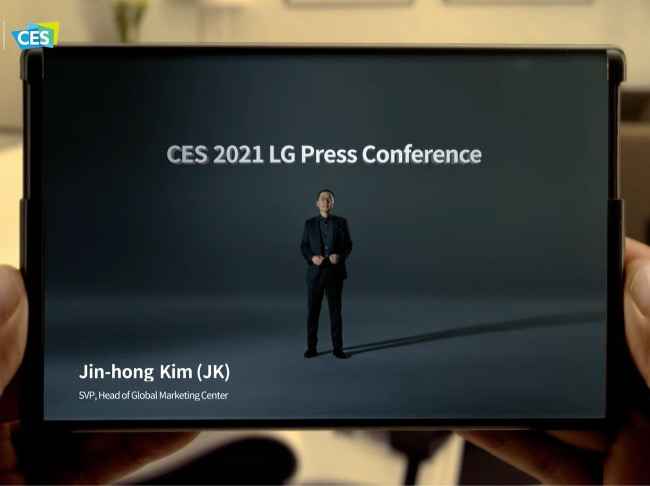 Then at the end of the conference, JK signs-off as a person is shown to watch the conference on the rollable phone that starts to reduce in size. The company also confirms the name LG Rollable that's been rumoured to be under development under the Explorer's Project.
Shortly after the LG Rollable teaser went viral, a spokesperson for LG confirmed to Nikkei Asia that the LG Rollable phone will be launched this year. "Our management wanted to show that it is a real product, as there were many rumours around the rollable phone. As it is released at CES 2021, I can tell that it will be launched this year," Ken Hong, a spokesperson for LG told Nikkei Asia.
Moreover, the report also cites an industry source that claims that LG is working with BOE for the rollable screens that go into making the LG Rollable phone. BOE is one of the major manufacturers of displays that are used by TVs and smartphones including foldable screens. The company has worked with Huawei before for the company's Mate X foldable phone and has provided displays for LG smartphones as well.
According to previous reports, the LG Rollable could have a 7.4-inch rollable display with 20:9 aspect ratio similar to the Oppo X 2021 concept smartphone. The device is also said to have a video mode with 16:9 aspect ratio along with a productivity mode that offers 3:2 aspect ratio. The exact display specs remain unknown but if we had to guess, the LG Rollable phone could use an OLED display with a variable size that can go between 6.7-inches to 7.4-inches.
The phone is expected to be powered by the Qualcomm Snapdragon 888 processor with 16GB RAM and 256GB storage options. It is rumoured to be equipped with a 4,200mAh battery likely with support for fast charging.
If everything goes well for LG, we may soon see its Rollable phone before Oppo X 2021 makes it commercial debut. However, at this point, there is no exact date for the commercial launch of either of the rollable phones. You can read more about the Oppo X 2021 concept phone here.